Intelligent PV plant monitoring solution enhances maintenance and operation management efficiency (BOE Technology Group)
3/11/2016
Project Introduction
Beijing's air quality is infamous for its lack of breath ability, and the government aren't happy with this , so in order to improve it the China government initiated the Golden Sun Project and, increased subsidies for solar-power generation to encourage the installation of solar PV (photovoltaic) systems. However, the growing number and variety of PV installations, centralized management and information integration of each station are increasingly difficult to manage.
Well-known panel manufacturing company, BOE Technology Group, branched out into the PV industry several years ago. Since then, its energy business unit has specialized in providing key components and total system solutions for solar applications, and has gradually been completing 20 key PV construction projects in the Beijing area.
These PV stations are located in different areas many kilometers away from headquarters. Although the company regularly sent staff to transcribe meter data, HQ could not understand the operational status of each power station in real-time. As more and more PV plants come online, more manpower and resources will be required. Under increasingly heavy loading on maintenance and operation management, the company urgently needed a real-time monitoring and unified management platform.

System Requirements
In order to implement real-time 24/7 monitoring, the new PV plant management solution needed to provide comprehensive intelligent remote control and management. This would include collecting the data of front-end instruments and devices; properly configuring network systems based on site conditions and transmission distance; utilizing data gateways to completely record and protect data; and providing a feature-rich user-friendly management platform. In addition to a wealth of functionality, the software needed to be able to allow users to design their own HMI (Human Machine Interface) applications. Also, due to the cold northern climate and the special environment of the power plant, the related hardware products needed to have rugged durable characteristics as to withstand harsh conditions.

System Description
For photo voltaic applications, Advantech proposed Web browser-based intelligent software equipped with industrial-grade hardware. The Solar Power Management System (SPMS) is a multi-layer architecture for data acquisition, transmission network and systems management, which enabled users to use information and scientific methods to manage their PV plants. For general users and system integrator, troubled by the numerous front-end devices with different brands, supporting a wide array of communication protocols can easily solve this problem. Through this function, no matter which brand of PV string, convergence box, inverted, meteorological instrument, video camera, security equipment and meter is used, they are easily incorporated into the system. The system also offers a special mechanism to temporarily store the collected data in Advantech's devices, so if the network becomes disconnected there wouldn't be any loss of data and it will continue when the problem is resolved. Plus, the system can also retain all data and provide historical data reports. Both features are a big help for PV plant managers who need to submit the full records and reports to apply for government subsidies.

Secondly, thanks to the Browser/Server architecture of SPMS, users no longer need to install special software and can access the software from any Internet ready device, thus quickly expanding the number of client nodes without the hassle of maintenance and saving the cost of purchasing additional software. In order to facilitate the management of plant information, the easy-to-use management interface allows users to add, delete or modify data. By integrating a Geographic Information System (GIS), video surveillance system and security system, control center managers can remotely monitor each PV stationfrom the same platform. The system is able to plot the information of all power plants' generating capacity and the data of each inverter into real-time graphs and display the information on the computer screen, helping users evaluate power generation performance. For historical data, daily, monthly, quarterly, annual or other frequency reports can be generated. Furthermore, the system also provides WebAccess configuration software, for users to create their own special functions or applications.

In terms of hardware, the project employed several Advantech devices, including industrial computer, analog input module, single mode media converter, unmanaged switch. All of them are industrial-grade rugged products. With compact, durableandreliable features, the WA-UNO2178-C50HE provided excellent computing power balanced with Energy Star certified low power consumption. It also has a fanless design, extended temperature range and IP40 protection, while offering rich I/O interfaces to easily connect a variety of peripheral devices.

The ADAM-4117, an 8-channel analog input module with high and low temperature resistance, anti-noise and anti-surge characteristics, is responsible for collecting environmental and weather information through the Modbus RTU protocol to transfer the data to the computer.

For network configuration, since the PV plants are categorized as outdoor and remote applications and this project needed to integrate many different levels of power stations, Advantech utilized two cost-effective networking products to construct a stable transmission of communication environment. Through the deployment of EKI-2541S fiber optic converters in the front-end data acquisition section, the system can increase communication distance beyond the 100 meter limitation of Ethernet links. An EKI-2528 unmanaged switch was installed to transfer data between the stations and the control center.

Project Implementation
Solar Power Management System (SPMS): Web-based Intelligent Management System for PV Power Plant

WA-UNO2178-C50HE: Fanless Industrial Computer with Advantech WebAccess of Simplified Chinese Edition (5000 tags)

ADAM-4117: Robust 8-ch Analog Input Module with Modbus

EKI-2541S: 10/100T (X) toSingle-Mode SC Type Fiber Optic Industrial Media Converter

EKI-2528:

8-port Unmanaged Industrial Ethernet Switch



System Diagram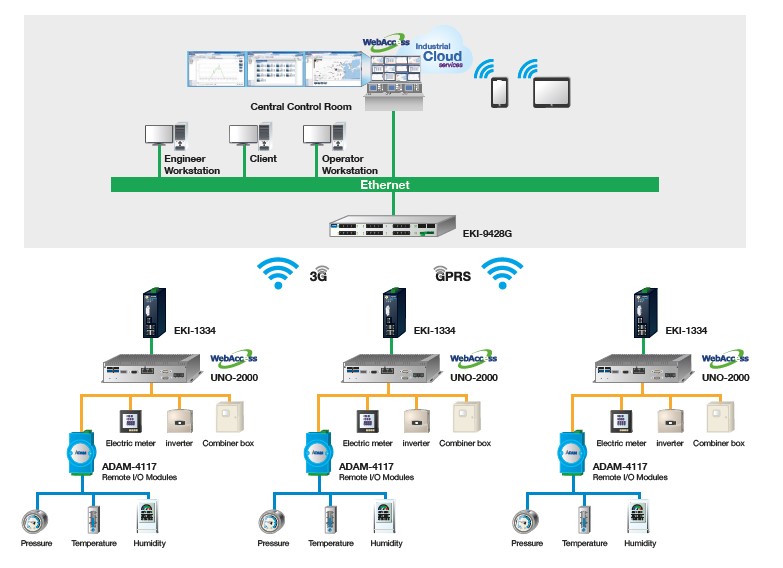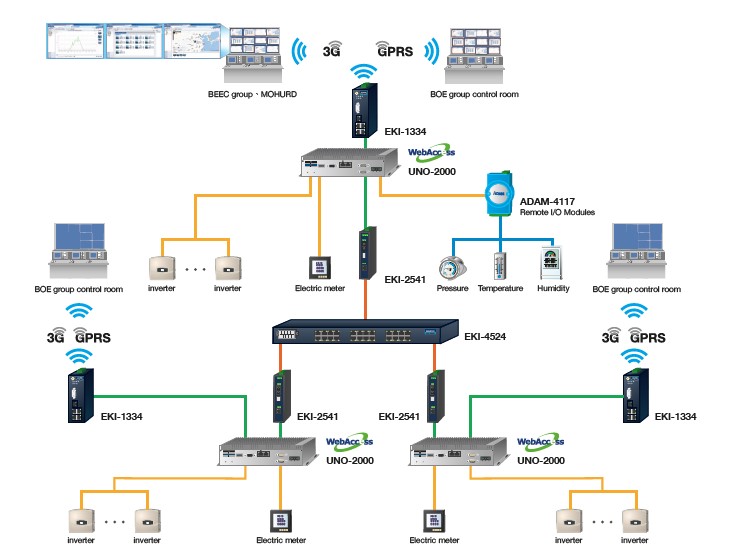 Conclusion
By implementing Advantech's intelligent PV plant monitoring solution, owners like BOE Group do not need to worry about compatibility between products and peripheral devices during the project building phase, and can have a stable and reliable system through our high degree of seamless integration. After completion, this remotely centralized management platform with visible, manageable and controllable features not only saved manpower and resources but also significantly enhanced the operation and maintenance effectiveness by real-time monitoring and unified management.