Advantech Edge AI Inference System for Smarter Traffic Violation Ticketing
5/18/2020
Over a decade ago, IBM launched its "Smarter Planet" program geared toward helping cities run more efficiently by saving money and resources while improving quality of life for citizens. However, traffic congestion remains a major issue for urban planners, with illegal parking serving as a primary reason for the chaos.
Detecting illegal parking cases is highly reliant upon high-resolution cameras. The traditional process, transmitting all streaming video to the backend server, was not a suitable solution in this case due to the huge volume of video data. Having a real-time response capacity was also a key factor. An Edge AI system that handled near-site camera video streaming and performed AI inference for driver behavior analysis and license plate recognition was required for resolving this challenge. To guarantee real-time monitoring and provide the best 24/7 service, a secure and reliable Edge AI system was needed. Remote management and maintenance were crucial since the Edge AI system was deployed in multiple camera areas, including roadside, stations, and all public areas facing illegal parking issues.
The EPC-R7000 uses NVIDIA® Jetson™ TX2 as the edge AI core that leverages image and video capabilities and 256 CUDA core inference computing for real-time driver behavior analysis and license plate detection and recognition. It provides an effective way to reduce illegal parking cases while utilizing fewer police resources. The EPC-R7000 offers a Jackpack-enabled AIM-Linux/Edge AI software package for accelerating AI developer access and outstanding hardware performance on AI inference applications and DeviceOn installation for remote management and maintenance.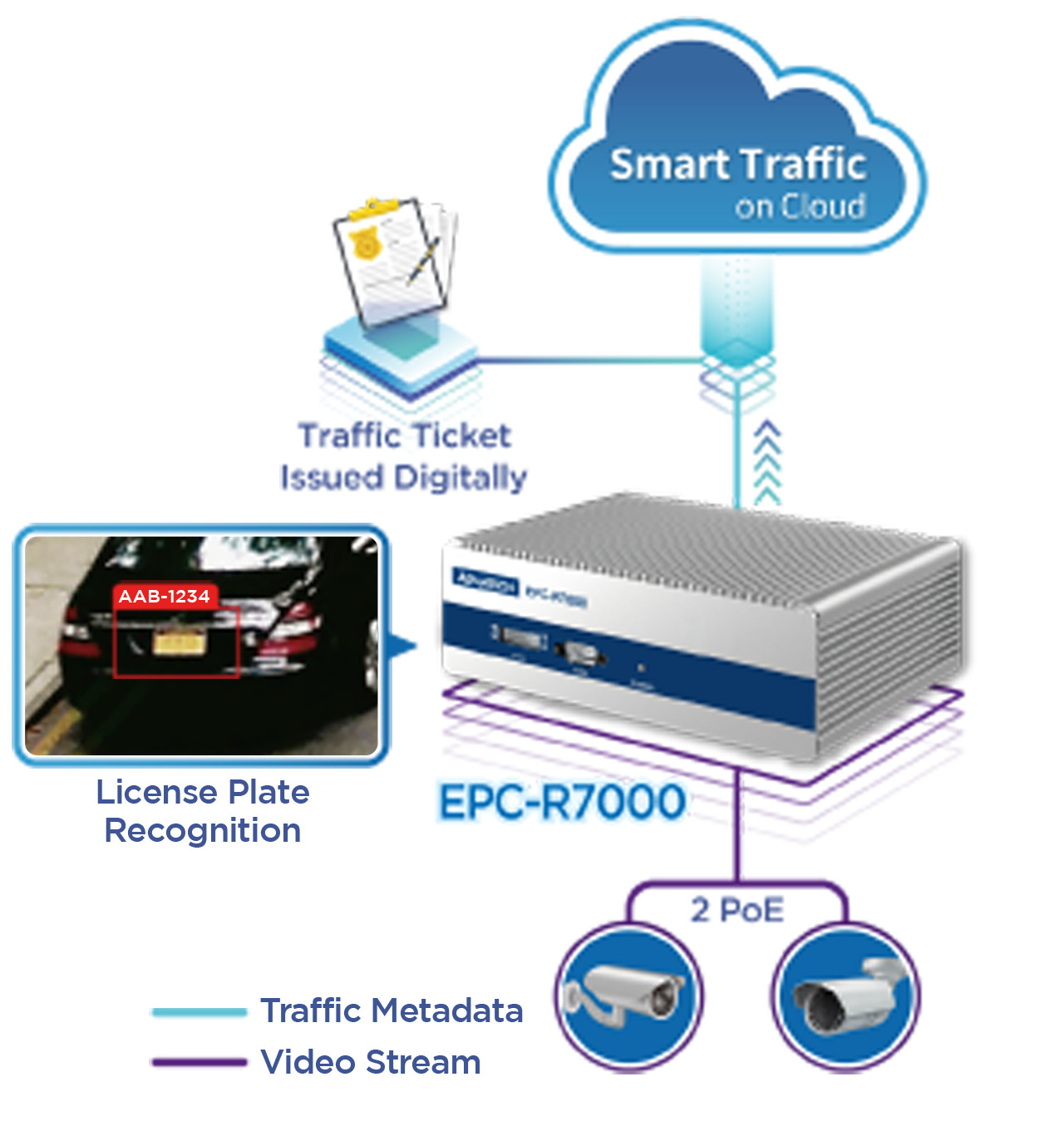 Arm-based edge AI solution for real-time video and image Inference
Powerful Nvidia TX2 SoC with 256 CUDA core GPU
2x PoE for camera connection
Wide-temp and fanless design for rugged environments
Jetpack-enabled AIM-Linux / Edge AI Software package