Advantech's Power and Energy Management Computer Seamlessly Connects the Energy Consumption Management System in Beijing's International Airport
5/11/2020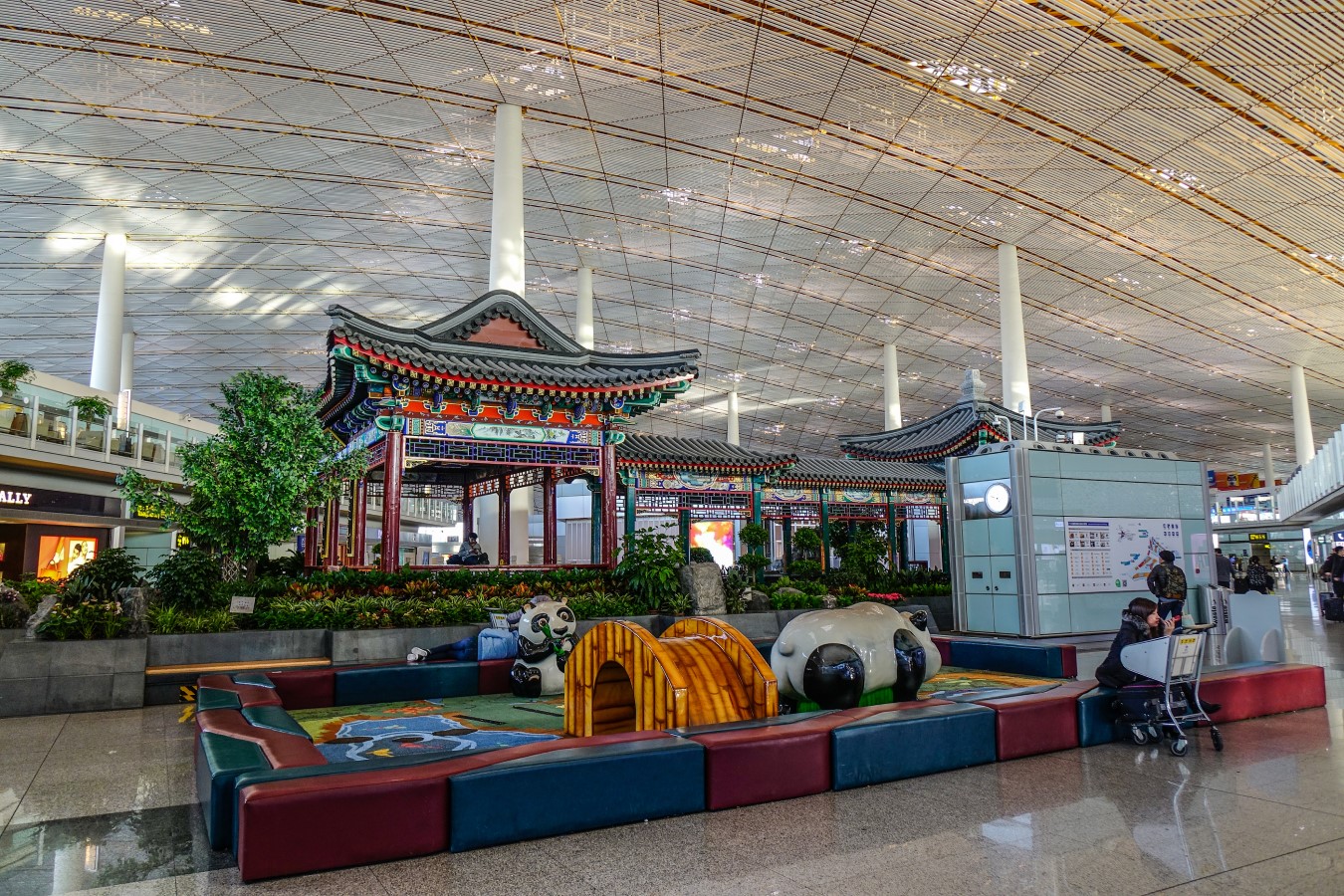 The long-term energy consumption required to provide passengers with a clean, bright, and comfortable airport environment is astounding. Research in Europe has shown that the amount of energy consumed by civilian airports is comparable to that of a small town. A significant proportion of this energy is wasted due to inadequate control and management. This has prompted many airports worldwide to adopt energy conservation and environmental protection measures and to introduce automated systems to replace the traditional management model that relies on manual inspections. More advanced airports have even adopted intelligent operation and maintenance(O&M) platforms and now use automated controls to prevent unnecessary waste, improve monitoring and control efficiency, and reduce overall energy consumption.
A set of interconnected intelligent O&M platforms for airport energy and equipment includes many sub-systems and a diverse range of equipment and instruments. O&M data retrieved from equipment must be converted from specific communication protocol formats at the data gateway before integration in a central management system, thus making the data utilizable for monitoring and control purposes. As such, the performance and stability of the data gateway determines the efficiency and reliability of the entire system. Advantech's ECU-4553 power and energy communication management computer is highly suitable for this crucial task to achieve a seamless connection. This gateway meets the IEC 61850-3 standard and is designed specifically for power and automation applications. Its outstanding performance allows the system software to fully utilize its functions. The device also provides many ports for connecting to multiple types of field site equipment. Its optimal anti-interference capabilities also ensure system stability and operation under harsh conditions.
Beijing Daxing International Airport has been designed to accommodate 100 million passengers each year and is expected to be operational in the second half of 2019. The airport is positioned as a large-scale international aviation hub and is committed to setting a new paradigm for green airports in China, with energy conservation and environmental protection ideals having been incorporated into the plans during the initial design. A system integrator was appointed to establish an unmanned energy and equipment O&M platform for the 26 substations, 60 transformers, 9 backup power generator facilities, and 258 electrical rooms. The platform was designed for comprehensive monitoring of the air-conditioning, lighting, water supply, heating, elevators, other equipment with high energy consumption, as well as related instrumentation.
Computers were installed in each electrical room as data gateways to collect data, including an inventory of energy consumption information in the airport. The data were then employed to analyze potential energy savings before interconnected mechanisms were implemented to reduce energy consumption. The gateways convert data from various communication protocol to the IEC 61850-9 format before uploading to the integrated O&M platform. The computers had to meet the following criteria:
High-performance and high-stability industrial-grade computers with sufficient computing power for processing massive amounts of data;
Signal isolation and anti-interference hardware design that meets the IEC 61850-3 standard;
Adoption of the RT-Linux real-time operating system for instantaneous control;
A wider range of operating temperature and superior anti-interference capabilities to ensure stable operation in harsh environments;
Multiple RS-485/232 serial ports and network ports for connecting to multiple bottom-layer equipment and for data transmission.
Beijing Daxing International airport has 258 electrical rooms, each of which is to be equipped with an Advantech ECU-4553 as the data gateway. This unit was selected because it can connect a high number and wide variety of bottom-layer equipment to the upper-level management system. The serial ports on the ECU-4553 will also provide connectivity to small-scale relays, high-voltage/low-voltage power instrumentation, onsite I/O devices, onsite controllers, and other devices while allowing for high-speed data conversion. The data will then be transmitted to the management system in the control center via Ethernet switches.
The system can also issue control commands to field site equipment via the ECU-4553. For instance, based on flight information, it can predict the number of passengers that will be in given region and implement air-conditioning control measures where there are fewer passengers. In addition, when the system receives an anomaly from the transformer signifying that a temporary blackout has occurred, the backup power generator can be remotely activated from the monitoring center.
The ECU-4553, which has a built-in TI Cortex A8 processor, is a high-performance industrial-grade communication management computer that meets the IEC 61850 standard. It is equipped with the RT-Linux operating system, which facilitates real-time communication and increases the accuracy and efficiency of the energy consumption monitoring system. Its wide range of operating temperature (-40~70°C) prevents issues such as boot failure or crashes caused by extremely low or high temperatures. In terms of electromagnetic compatibility (EMC), the ECU-4553 meets hardware standards and regulations under IEC 61850-3. It can withstand external electromagnetic interference without affecting the operations of other equipment or devices. Its operations remain stable even when installed in an environment with electrical and electronic equipment that may otherwise cause interference.
With regard to achieving seamless connectivity, the ECU-4553 provides 4 LAN ports and 16 RS-232/485 serial ports and it can easily connect to equipment that uses different protocols (e.g., IEC-60870-5-104, IEC-60870-5-101, Modbus/RTU, and Modbus/TCP), thus satisfying the current project's connection requirements while reserving room for future system expansion.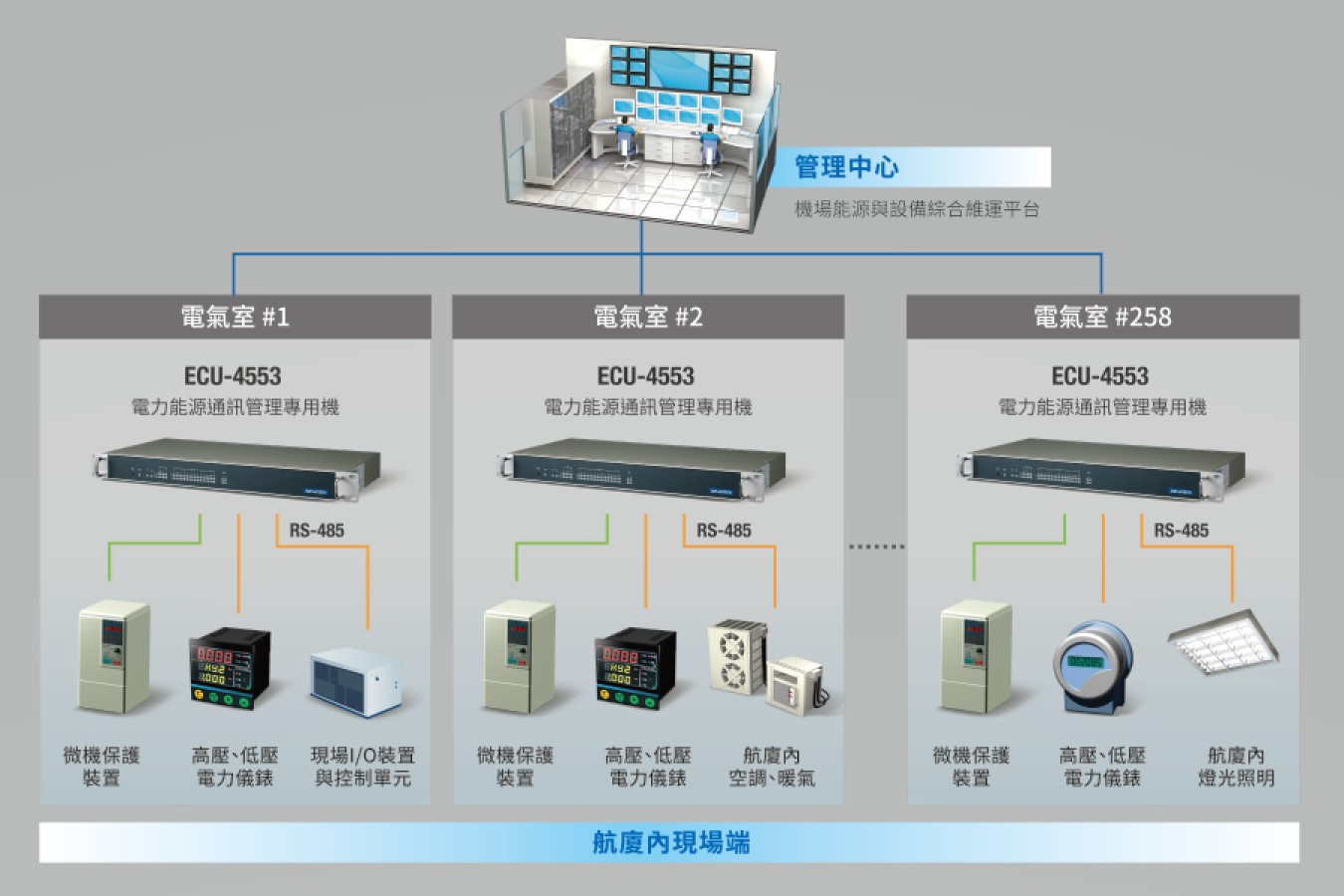 To overcome problems with high energy consumption, new airports in the IoT era must adopt system management measures for energy conservation and environmental protection. Data gateways are a core component in smart energy-consumption monitoring systems. The issue of whether it can meet expectations depends on whether such devices can offer long-term performance, stability, and durability. Advantech's ECU-4553 communication management computer is not simply a high-performance computer designed for power and energy applications; it has also passed rigorous 2-year tests for electromagnetic compatibility, hardware reliability, and software/hardware compatibility. It has therefore received wide acclaim from this system integrator and the Beijing Daxing International Airport. The system integrator, who excels at developing intelligent energy management systems, has stated that they shall continue to use the ECU-4553 in new airports and upgrades to existing airports in China. They also plan to use the ECU-4553 in other large-scale public buildings, commercial offices, smart cities, and other high energy consumption settings in order to establish a smart energy consumption management system that saves operating costs and optimizes management efficiency.