OPC UA Enabled SCADA Monitoring Solution for Gas Stations
9/29/2021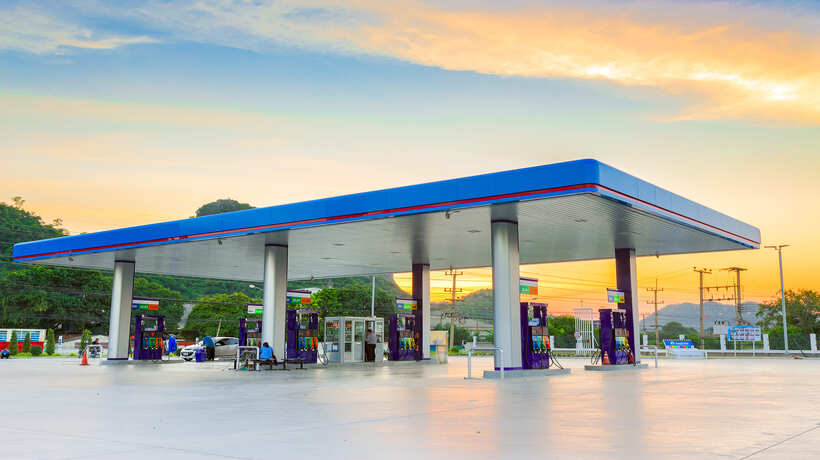 The operations of a gas station (or "petro station" in UK) involve many automated parts and sensors for filling tanks and cars. Any leaks of fuel into the air or the soil would not only undermine revenues but also harm the environment and the health of workers at the station, or worse, entail immediate safety issues. Today, many filling station chains have tried to oversee their remote assets and improve management by deploying a centralized Supervisory Control and Data Acquisition (SCADA) system providing intelligent features.
For example, an Advantech ecosystem partner in the Middle East has been awarded a contract to modernize the OT and IT infrastructure of some filling stations owned by a gas company, as part of the company's effort to build a SCADA system for monitoring the operations and the environmental conditions of their gas stations at real time. Our partner has used Advantech ADAM data acquisition I/O modules and an all-in-one intelligent remote terminal unit (iRTU) supporting Open Platform Communications Unified Architecture (OPC UA) to realize a most cost-effective solution delivering unparalleled data security.
Traditionally, the sensing and automatic control of gas station facility uses serial architecture for communications, for example, with RS-232 or RS-485 interface and Modbus protocol, due to cost benefits and easy deployment. However, Modbus technology is no guarantee of data security, and if we try to acquire data from the field and send it to the SCADA system on the cloud, we risk cybercriminal intrusions and the leaks of business secrets. Therefore, the customer needs a solution to effectively acquire data from the field and send the data to the SCADA system in IoT compliant and security-enhanced format.
Project Implementation (Products)
Advantech ADAM-3600 combines the functions of a computer, a modular I/O system and an IoT gateway, and becomes an excellent all-in-one solution for Remote Terminal Unit (RTU) reducing deployment costs and difficulty with seamless integration. Installed with Advantech WISE-EdgeLink gateway software, ADAM-3600 delivers versatile support for various protocols, such as serial Modbus, Ethernet, PLCs, MQTT, and the newly added OPC UA.
In this case, Advantech recommended installing ADAM-4000 serial I/O modules to acquire data from sensors deployed at underground tanks for detecting gasoline leaks and possible contaminations of soil, which could be a most economic solution for field analog data acquisition. Meanwhile, Advantech also recommended adding ADAM-6200 series Ethernet I/O modules to the field for acquiring data detecting underground water contaminations and other types of environmental pollutions, as ADAM-6200 supports daisy chain topology ensuring easiest installation and highest scalability, with auto-bypass function delivering data transmission reliability.
The acquired environmental data, together with the operating data acquired from gasoline dispensers, will be sent to UNO-410 via Modbus. UNO-410 is a rugged computer featuring anti-explosion protection which is particularly ideal for gateway deployments for gas stations prone to environment hazards. The ADAM-3600 iRTU, deployed in the gas station office, will collect data from all sources, convert the data into OPC standard, and upload the data to the remote SCADA server with encryption and sign-in certificate—the innate security features provided by OPC UA.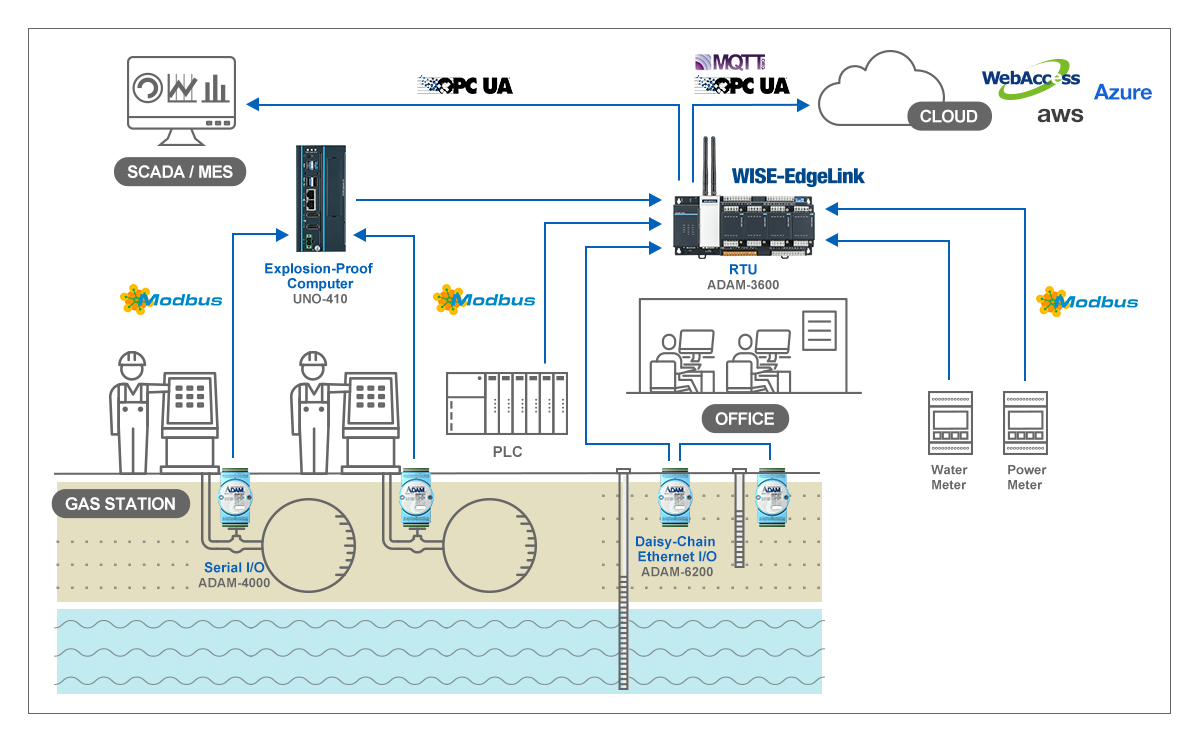 The operations of public utilities (e.g., water, power, gasoline and other necessities) often need to maintain a great number of remote and distributive assets. The OPC UA protocol is particularly suitable for these utility companies in developing SCADA for facility monitoring and IoT digitalization, as it is a standard that unifies and converges OT and IT communications with innate security features; the open platform architecture also provides an universal access for connecting with an extensive number of cross-platform devices, empowering high scalability; and, the timestamp feature of OPC is able to clearly mark the sequence of each data entry, which is helpful in data analysis.
Advantech, as the world's leading IoT expert, provides a most complete array of products supporting OPC UA and other protocols to allow our customers in different application scenarios to flexibly design and build most feasible and reliable solutions with fastest time-to-market, and push for digital transformation in many industries.