Advantech Releases NVIDIA-Certified System SKY-640V2 Industrial Server
5/30/2021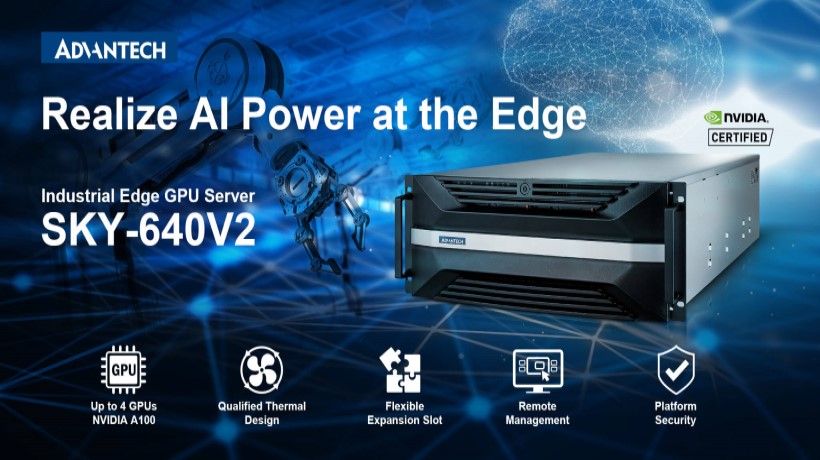 Advantech, a leading provider of industrial intelligent systems, is pleased to announce the SKY-640V2 industrial NVIDIA GPU-powered edge server. This innovative solution empowers automated manufacturing by providing a deployment environment suitable for large AI workloads. Advantech's SKY-640V2 has successfully achieved the requirements of the NVIDIA-Certified Systems™ program.
NVIDIA-Certified Systems Empowers AI Technology Integration
NVIDIA introduced the NVIDIA-Certified Systems program to help enterprises confidently choose preconfigured, performance-optimized servers to power accelerated computing workloads at any scale. Servers certified through the program are capable of running NVIDIA AI software to support the rapid deployment, management, and scaling of AI workloads in modern hybrid clouds.  NVIDIA-Certified Systems enable enterprises to deploy reliable hardware solutions that conform to NVIDIA's design best practices and have passed a set of certification tests that validate the best system configurations for performance, manageability, scalability, and security.
Advantech SKY-640V2 Industrial Edge GPU Server Eases Integration
Advantech's SKY-640V2 is a 4U rackmount server with dual 3rd Gen Intel® Xeon® scalable processors. SKY-640V2 supports up to four NVIDIA Tensor Core A100 GPUs for AI and HPC. SKY-640V2 also supports NVIDIA NVLink Bridge for NVIDIA A100 to enable coherent GPU memory for heavy AI workloads. It provides 11 expansion slots and multiple PCIe for flexible GPU, NIC, and motion-control card integration. This solution empowers complex AI robotic control and manufacturing equipment applications. SKY-640V2 leverages Advantech's innovative thermal management system to increase airflow and pressure. This feature enables high computing workloads at the industrial edge by cooling GPU cards and reducing noise output.
SKY-640 V2 is able to scale out from single-GPU node to multi-GPU nodes when needed in industrial applications, especially in the areas of healthcare and voice recognition and translation. Software from the NVIDIA NGC catalog helps customers quickly access resources to accelerate their AI development. Secure remote management is provided for industrial applications that require these capabilities.
The SKY-640V2 is available now. For more information, please contact Advantech sales in your region, or visit our website.