Control Room
Transportation systems including control room systems aim at providing communication, security, surveillance, and technology that allow safe, convenient, and comfortable, efficient and environmentally friendly travel for all commuters. Many cities worldwide are in the midst of improving their control room systems, and Advantech is there to provide a helping hand, offering advanced product solutions comprising committed Industrial Server with flexible and high-performance, trusted Industrial Storage Appliance with reliable data protection and backup solution, and video wall controller, supporting 8 to 40-output solutions which make ideal solutions for system integrators.
System Topology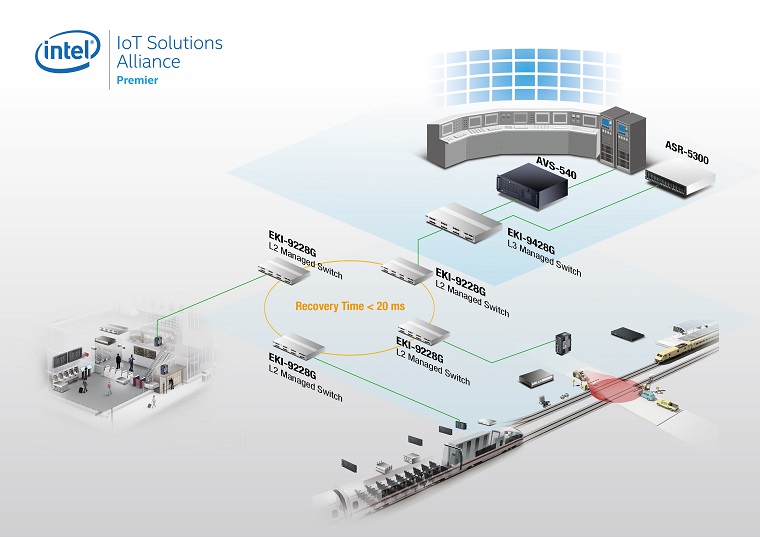 Control Room Offerings
High-performance Server-grade IPC
Trusted Industrial Storage with Data Protection
Video Wall Controller Solutions
Remote Manageability
Application
Video Wall Controller System
System Requirement
Benefiting from a new generation of video wall controllers loaded with multiple Matrox MuraTM MPX output/input graphic cards, display systems used in the control room can create large-scale and highly functional video walls to display any incoming video or data, such as VGA or DVI feeds from any of a range of sources: operator workstations running maps, Automatic Train Supervision (ATS), Automatic Train Protection (ATP), Automatic Train Operation (ATO) programs or Passenger Information System (PIS), platform live video CCTV feeds, set-top BOX HDMI feeds, etc. Broad video walls composed of multiple monitors provide the viewers with a large virtual desktop that can be easily manipulated in response to rapidly changing conditions. This helps to enhance situational awareness, which can be a crucial factor in executing safe and efficient transportation management.
Railroad PSCADA System
System Requirement
For modern railroad systems, a reliable supply of electrical power is a matter of life and death. Power substations along rail lines transform voltage from the city grid into voltage suitable for trains. The equipment in these power substations requires close monitoring to ensure normal operations and security. Advantech Industrial Server are ideal for PSCADA applications as they are particularly rugged and durable, delivering massive computing performance and data storage capacity with power and networking redundancy, and most importantly, supporting remote control and management. These features ensure the system can operate smoothly 24/7, with maximum security. This is important for monitoring railway power supplies, where there is no room for errors.
NVR Storage Appliance
System Requirement
A storage appliance aimed at recording and storage applications and ideal for surveillance applications for transportation etc. Built-in H/W RAID offers RAID levels 0, 1, 5, 6 and RAID SPANS 10, 50, 60. Also designed for an optional battery backup module (BBU) to provide strict data protection against data loss in the event of system power failure. Built-in quad LANs with teaming feature for NVR high demand bandwidth, expandable through JBOD system for scaling up HDD capacity. Advantech storage appliance solutions have comprehensive fault-tolerant capability with H/W RAID and online expansion capability via JBOD to ensure the highest possible data availability.
Fiber Optic Gigabit Industrial Media Converters for
Long Distance Data Transmission
EKI-7659C and EKI-2741F
Data transmission is critical to control room as massive information will be transmit to this system monitoring and controlling center. Advantech EKI-7000 Series Managed Switch is able to provide redundant Ethernet network with ultra high-speed recovery time less than 20ms to ensure information transmission reliability. Moreover, for modern surveillance system, images or videos taken from IP camera will need to be transferred to control room which is far from local devices. Under such circumstance, data transmission through fiber optical devices is the solution. Advantech EKI-2741F is designed to convert Gigabit Ethernet networks to Gigabit fiber networks by transparently converting Ethernet signals to optic signals. Therefore, EKI-2741 is an ideal solution for "fiber to building" applications at central offices or local sites to transfer data to control center.