Vehicle Body Control Module Test System
4/18/2016
Project
As automotive technologies progress, an increasingly wide range of vehicle equipment must be controlled while driving through either the central console or the steering wheel. To ensure that all this equipment performs normally under dynamic conditions while the vehicle is in motion, rigorous tests are required during the production phase to ensure the reliability of switches and overall actuation accuracies of the system. Fundamental test protocols for this system included: wipers, door locks, windows, interior and exterior lighting, horn, meters, safety equipment, anti-theft, vehicle stability assist system, etc. Because the standardized CAN bus protocol was adopted for the control units of the various body parts, Advantech provided the PCIE-1680 communication card that fully supports the CAN bus protocol to perform all the control tests for this field.
Requirements
- Manual tests: Use manual operation buttons to perform the tests for the various switches and variables.
- Automatic function tests: Use the computer to control the various appliances and perform the automatic tests for the various switches - and variables. No human intervention is needed, resulting in improved testing efficiency.
- Add the simulated loads and actual loads to perform the tests.
- Each sub-function test must be able to be performed under any and all of the various ignition states.
- During the test, a CAN bus can be used to diagnose the vehicle body controller configuration data to perform tests on the various - -functional configuration items.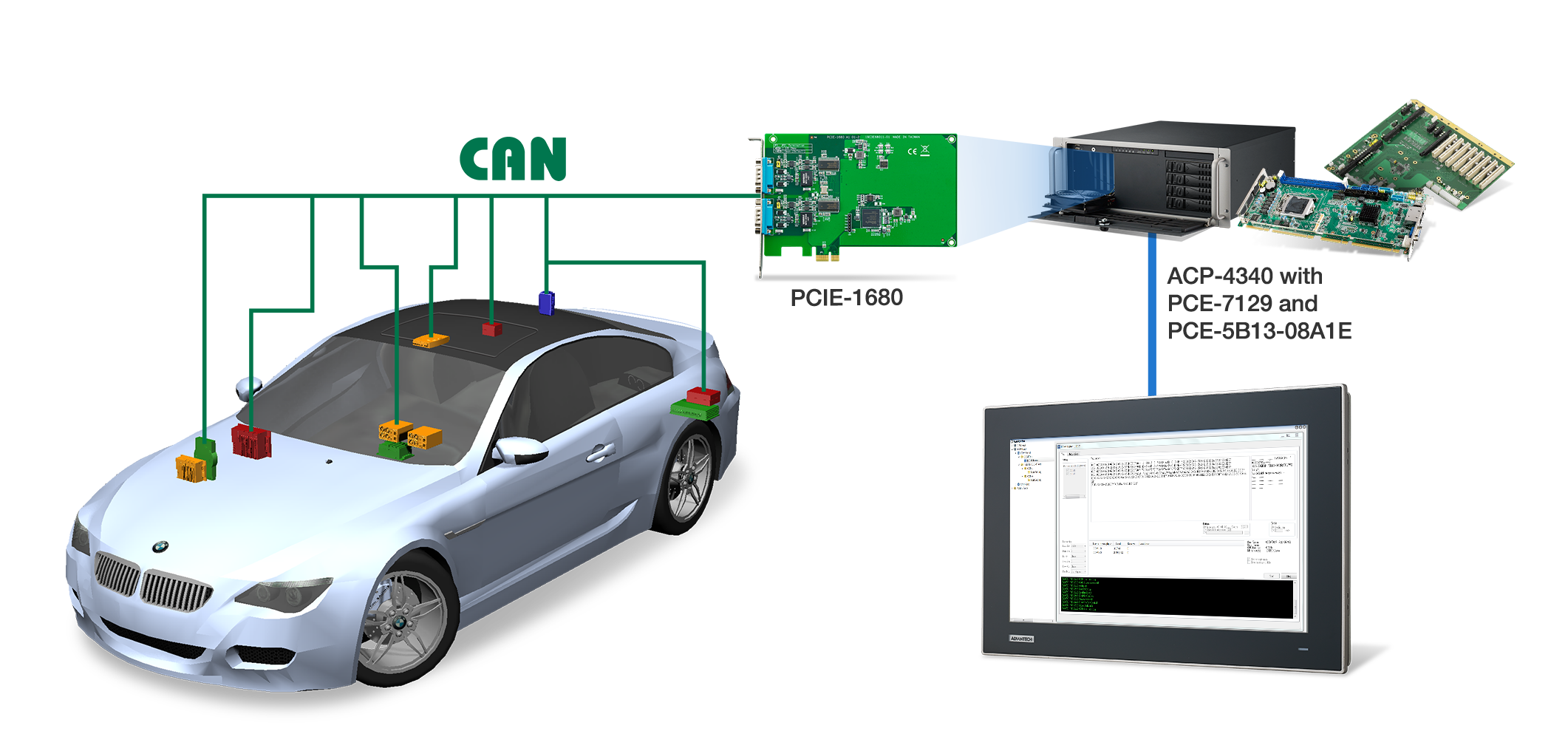 System Features
Advantech's industrial 4U rackmount IPC and the PCIE-1680 dual channel CAN bus communication card were adopted. This card has high speed transmission efficiency of up to 1 Mbps and can play the role of a signal transmitter for vehicle body equipment test systems that pursue zero start/stop delays. Signal isolation protection was also adopted for a control element system that has complex wiring and a variety of start/stop arrangement combinations in order to provide undisturbed signal transmission, prevent operation errors, and improve system stability. This test system used the primary CAN bus channel to perform signal communications between the host and the control elements, to simulate the configuration of a finished vehicle, to perform single/multiple device on/off switch load tests through control signals transmitted from the central machine, and then used the ICOMNavi software to perform data communicating and reliability analyses.

Lighting system load simulation (turn signals, front fog lights, headlights, brake lights, etc.). Windows, wipers, door locks, and other loads.
The automobile meter test integrates a variety of vehicle buses. Its standard configuration is the CAN bus with the scalable FlexRay and LIN bus when needed by the test.
Channel composite applications.
Provide specialized testing interfaces.