Automobile Brake Testing System
1/22/2016
Project
The braking system plays a pivotal role in driving safety. Therefore, products related to braking are subjected to extremely high intensity and rigorous tests during the brake component production process in order to ensure normal function under all conditions. With advanced automobile brake detection devices as well as precision measurement and sensing technologies, automobile brake test platforms can perform brake equipment tests for a variety of vehicle types. All of the test methods are controlled and inspected using torque sensors and servo motors. For these tasks, the analog and digital mass data acquisition cards adopted by Advantech's industrial computers can seamlessly link the actual on-site data with the standard data. This system uses a PC-based structure and applies data acquisition and signal processing, industrial control and automation as well as database and computer monitoring techniques.
Requirements
- The industrial computer must withstand 8 hours of continuous operation without stopping in order to perform brake fatigue tests
- Compact, space-saving, industrial computer system with 2 PCI slots
- System hardware stability is essential because the brake safety system must satisfy strict national standards
- Multiple parameter batch sets for use under multiple conditions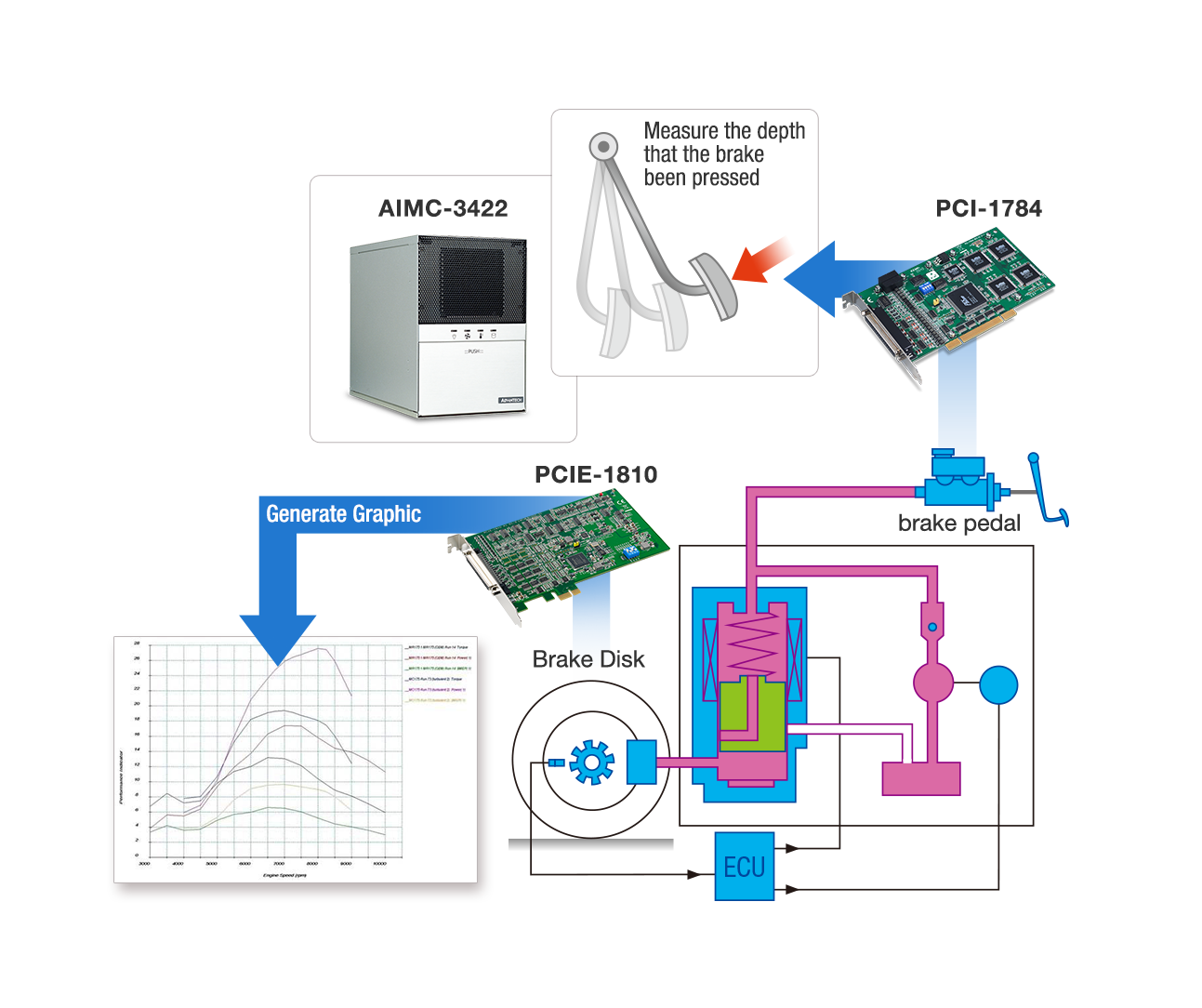 System Features
This testing system examines the brake capacity efficiency by measuring the brake pedal's stepping stroke and the corresponding brake force. The 800 KS/s high-speed sampling capability and the 12-bit ultra-high resolution can enable the PCIE-1810 to accurately capture the brake resistance of the tires, while the PCI-1784 count card can synchronously record the stepping stroke of the brake pedal. In conjunction, they plot an intensity diagram that illustrates the amount of force applied to the tire for each unit of stepping stroke applied to the brake pedal, and thereby analyze braking systemactuation efficiency.