Vivid sensation with applications for larger signage and video wall
1/15/2021
Display gets more and more popular in our life, and even more touch applications work with signage for human beings to engage digital world. In this booming of signage in mall, public area or station, TV sets were hang on the wall to compete with signage. Hereby the difference between signage and TV sets would be reviled, and you might have idea to select proper model(s) to fit with diversify applications.
It is hard for end user to distinguish the difference between signage and TV sets, and mixture the market segment in each. Obviously, the difference in the table below would be favorable for you to distinguish the points between those two display products.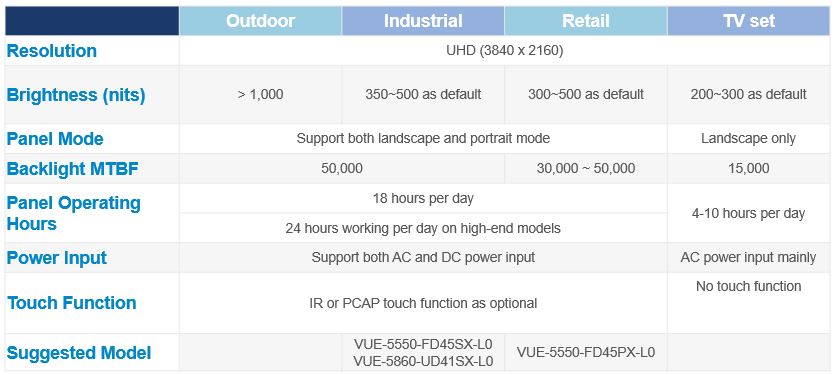 Advantech Signage models take industrial grade panel to support 500 nits brightness from 2021, and focus on 43", 55" and 86" models mainly. Meanwhile, the resolution would be upgraded to UHD (4K2K, 3840 Í 2160) to have finer visual experiences. The largest size would be 86", the size is equal to four 43" video wall stretched, or select 55" video wall with bezel by 0.9 mm, and stretch four video wall set to be 110".
VUE-5000 series models are capable with SDM (smart display module) slot to have computing power in x86 architecture. VUE 43" model equips SDM-S (small) slot and larger than 50" models equip SDM-L (large). In our experience, to have external IPC or SDM would be simple for users to judge once error happens. For instance, once any error signal or no signal appear, check the signage and IPC (or SDM) separately, once the signage could be turned on, then the error could be happened on IPC or SDM. Compare with the signage, IPS or SDM have small dimension, and the shipping cost should be lower than the signage. Except for SDM, VUE-5000 signage are capable with the features below.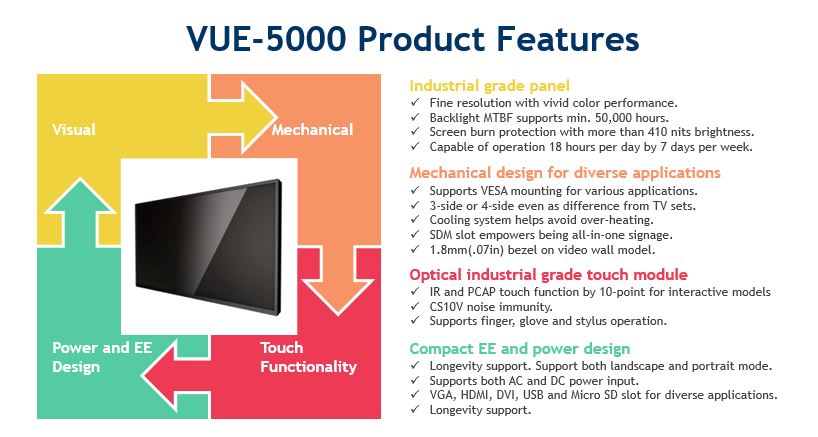 As we said in the beginning, signage is everywhere recently to cover include but not limited in retail, factory, medical, transportation, gaming and so on. Let's have a look on the applications as follow, and contact Advantech if you need any suggestion.