[Video] Plastic Injection Plant Introduces WISE-PaaS OEE Real-Time Monitoring to Fully Optimize Production Efficiency
7/17/2019
Overall equipment effectiveness (OEE) is composed of the utilization rate, production efficiency, and yield. It is an important indicator for measuring the operation of manufacturing equipment. Through OEE real-time monitoring, manufacturers can master the status of production operations to improve operational efficiency. This is an important first step in realizing smart manufacturing.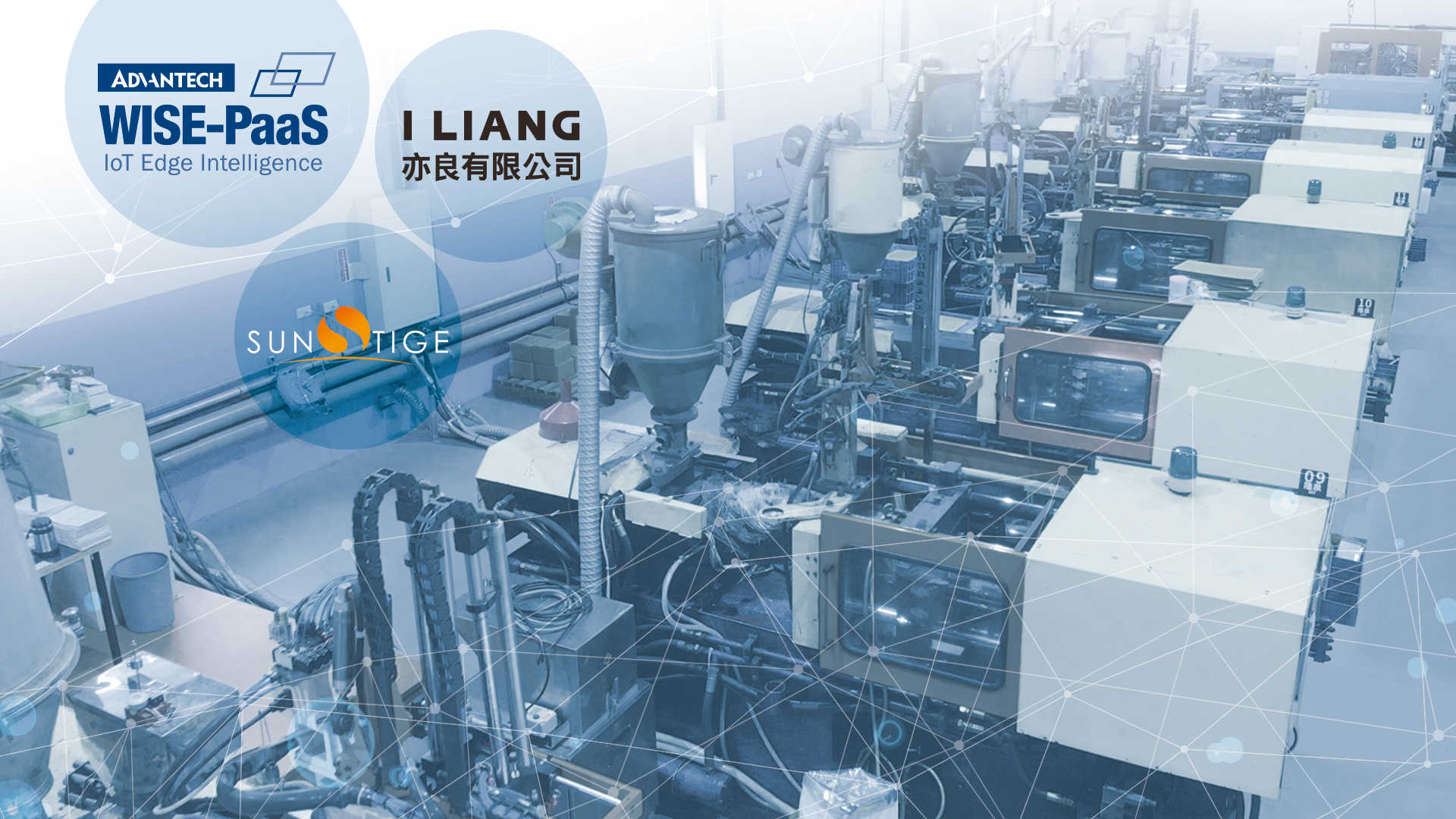 Founded in 1997, I-Liang Resin Co., Ltd. is a professional plastic injection and processing company whose main products include industrial parts for automotive and textile machinery as well as consumer products such as mobile phones and BB gun casings. Faced with the opportunity to build a new plant, two years ago the company started planning a move toward digitalization in order to break through the bottlenecks of existing management methods. With the help of system integrator SUNSTIGE, an OEE real-time monitoring system was successfully built through the use of Advantech software and hardware integrated with the WISE-PaaS cloud solution to improve production efficiency and create a new intelligent management model.
Traditional Management Methods: The Struggle to Improve Efficiency
Kelvin Chang, Special Assistant of I-Liang Resin Co. Ltd., said that although the plant was managed through ISO standards in the past and reports on machine utilization rates and yield were produced every day, the data was stored in an electronic or paper format without further organization, analysis, and visualization. This process made it difficult to derive valuable insights from the data being collected. It was therefore difficult for mangers and operators to understand the actual production situation.
Moreover, I-Liang's original plant was a traditional sheet metal plant with machines located on the same floor. Management personnel usually walked over to a machine to find out its operation status. However, after moving to the new plant, the injection machines and management personnel were now located on different floors. If the traditional method of management by walking around (MBWA) was adopted, efficiency would suffer. Therefore, I-Liang decided to deploy remote monitoring to determine the status of the machines and then integrate information to move towards digital management.
Cooperating with SUNSTIGE, Advantech's WISE-PaaS Solution Demonstrated the Effectiveness of Digitalized Management
Although SUNSTIGE was a start-up established in 2017, the team's background was in plastic molding and they'd had success helping a well-known plastics company build a smart manufacturing solution. For these reasons, SUNSTIGE won the favor of I-Liang and together formed a close partnership.
Dr. Ray Tseng, Vice President of SUNSTIGE, said that the introduction process of the project started with the networking ability of the existing equipment. The underlying hardware was constructed first before the software and application requirements of the upper layer were considered. SUNSTIGE's idea was to integrate the machine operation information gathered with a third-party system such as an ERP, and then establish a connection with the order and the work order to link the entire process from top-level commercial orders to the lower level production aspects.
"We're a current customer of Advantech hardware. After further contact, we found out about the WISE-PaaS cloud platform. Although SUNSTIGE specializes in industrial application knowledge, cloud architecture is not our expertise. We need services from partners like Advantech who have strength in industrial applications. Also, the solutions on the WISE-PaaS platform can really speed up our deployment. Thus, we quickly decided to adopt Advantech's software and hardware solutions," he said.
Dr. Tseng said that by using the WISE-PaaS/Dashboard, production status was displayed and visualization quickly realized after the installation. This only took one day—allowing I-Liang to see the status of the plant in the shortest amount of time. Once I-Liang was feeling confident, other information was connected successively.
I-Liang officially moved into the new plant in January 2019 and the machines throughout the entire plant are now live. Kelvin Chang said that as of now, via dashboard visualization, management personnel can clearly see the real-time operating status of each machine in the plant and accurately grasp the start times of the machines to reduce human memory or recording errors and easily master the utilization rate and production progress of the whole plant through digitalization. Moreover, due to the complete mastery and traceability of the data, if any yield is abnormal, the times and causes can be quickly found, statistical analysis can be carried out, and the problem can be effectively solved to prevent recurrence. If there is a problem with any machine, a LINE or email message will be automatically sent for instant notification and quick response. By effectively mastering the production time of the machines, it is also possible to pre-evaluate, prepare for mold changes, and make arrangements early. In doing so, the overall efficiency of the plant has improved significantly.
Based on the success of OEE real-time monitoring, I-Liang and SUNSTIGE are now planning to introduce a smart mold management system to enhance the managerial efficiency of 300 to 500 sets of plastic injection molds. Similarly, the companies expect to build a more comprehensive smart manufacturing management model by adding functions such as mold maintenance and scheduling visualization, as well as integrating with the system for raw material management and control.
Architecture of WISE-PaaS OEE Solution for Plastic Injections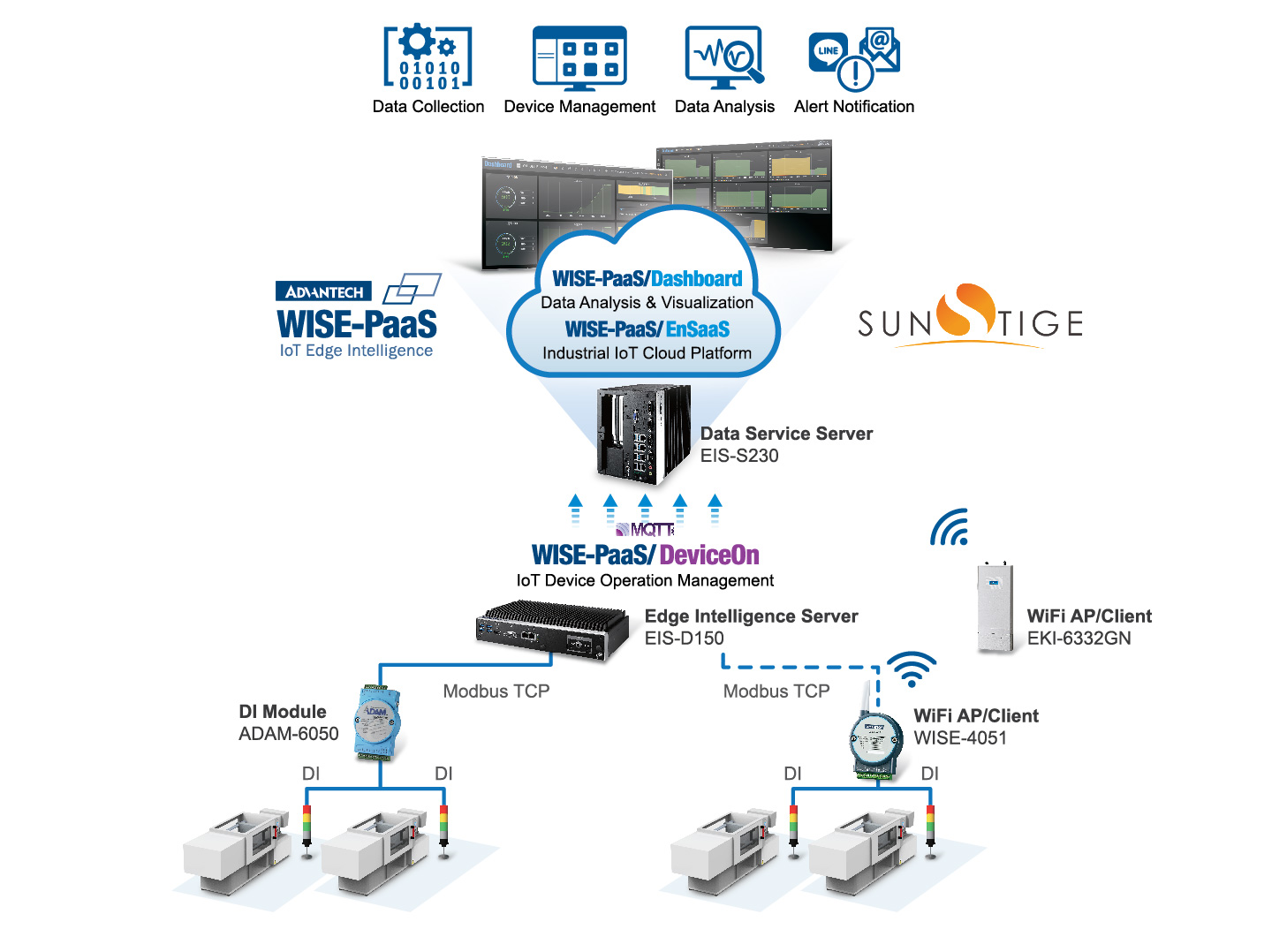 Edge-to-Cloud AIoT Architecture to Enable Real AIoT-Powered Cloud Business Models
IoT Software Online Business Channel to Buy, Deploy, and Customize Industrial Software Needs