Applications of Industrial IoT (IIoT)
5/25/2022
Applications of Industrial IoT (IIoT)
IIoT technologies are mainly applied in manufacturing factories. IIoT technologies connect multiple field sensing devices, data transmission devices, computing edges, analytic software, and cloud platforms to constitute a seamless connection circle from OT (operational technology) to IT (information technology). Let's look at IIoT applications in manufacturing factories one by one.
Machine to Intelligence (M2I)
Based on artificial intelligence (AI) and machine learning, machines are programmed to imitate human beings' thoughts and act with big data collected from field sites to cloud sites in factories. With M2I, machines can react proactively and tackle complex events or problems. Here are two practices of M2I:
Robot management with machine status monitoring, diagnosis, and intelligent prediction.
CNC machine monitoring for enhanced CNC management and predictive maintenance.
Real-time Monitoring and Control
Real-time monitoring is the process of gathering and storing data at zero or low latency. Utilizing this data, a real-time monitoring system will be trained to generate metrics and is used to remind business operators whether devices and equipment are working well and help business operators control the manufacturing process and take more accurate/real-time actions. Here are two practices of real-time monitoring and control:
The equipment automatically sends trends, timings, and partial/standard alarms in real-time.
Equipment continuously uploads data to cloud service or government office to meet regulations.
The equipment automatically sends trends, timings, and partial/standard alarms in real-time.

Preventive maintenance refers to routine and regular maintenance performed on equipment or assets to prevent occasional breakdowns and enhance business saving a lot of cost of dealing with urgent and high-risk facilities failure. Here are two practices.
Access multiple data sources in real-time to predict asset failure or quality issues and improve operational processes.
Intelligent predictive analytics to prevent unexpected breakdowns, allowing maintenance to be planned before failures occur.

Overall Equipment Effectiveness (OEE) Monitoring
OEE is a gold standard to identify manufacturing productivity. OEE helps businesses realize intelligent factories through data acquisition, aggregation, and analysis of machine availability to improve productivity, reduce loss, and increase profit. OEE monitoring represents businesses will deploy various sensing devices to monitor machine productivity. Here are two practices of OEE monitoring:
Access multiple data sources in real-time to predict asset failure or quality issues and improve operational processes.
Intelligent predictive analytics to prevent unexpected breakdowns, allowing maintenance to be planned before failures occur.
In manufacturing factories, asset management is concerned with the life cycle of the equipment. The key metric of asset management is the asset turnover ratio, which is considered to be the productivity of physical assets generating revenues. The process of turnover ratio is also related to asset use, asset investment, and disinvestment decisions. Business generally deploys IIoT-enabled devices to track the productivity of equipment in factories. The common practice of how IIoT-enabled devices perform asset management is to use key equipment such as motor and pump maintenance to prevent the asset from damage or failure.
Factory Energy & Environment Monitoring
As energy consumption gradually grows and more and more businesses care about the protection of employees and the environment, IIoT technologies are deployed to monitor how businesses monitor energy usage and the environment. Here are three practices of how businesses use IIoT technologies to enhance energy and environment monitoring.
The factory energy management system enables energy supply and consumption optimization to reduce factory operating costs.
Temperature and humidity monitoring to optimize factory operations.
Factory safety can be monitored for dust, gas, CO2, water, and other hazardous materials to ensure the factory environment is safe.

Warehouse management is the process of warehouse operations. The related activities are optimizing warehouse space, entry/export of inventory into/out of the warehouse, scheduling warehouse labor, and inventories moved/sold/or consumed. Here are three practices of how IIoT technologies enhance warehouse management.
Automated guided vehicles (AGV) solution to transport materials and products.
Full awareness of inventory visibility to optimize warehouse management.
Paperless real-time warehouse management to ensure competitive and successful distribution operations.
Recommended IIoT Free Online Learning Resources
Advantech IoT Academy, which was established by Advantech in 2020, is the industry's most consolidated online learning platform which integrates IoT foundational knowledge, product information, technical training, hands-on practical advice, trouble-shooting, and training for certifications. Featuring extensive courses, Advantech IoT Academy consists of 6 x IIoT domain courses, including intelligent factory, intelligent connectivity, industrial automation, intelligent system, edge & cloud software solution, and energy & environment. Advantech IoT Academy is ideal for learners who need to acquire IoT knowledge in a systematic way or Advantech partners who are searching for technical training or certification tests for accreditation or qualification.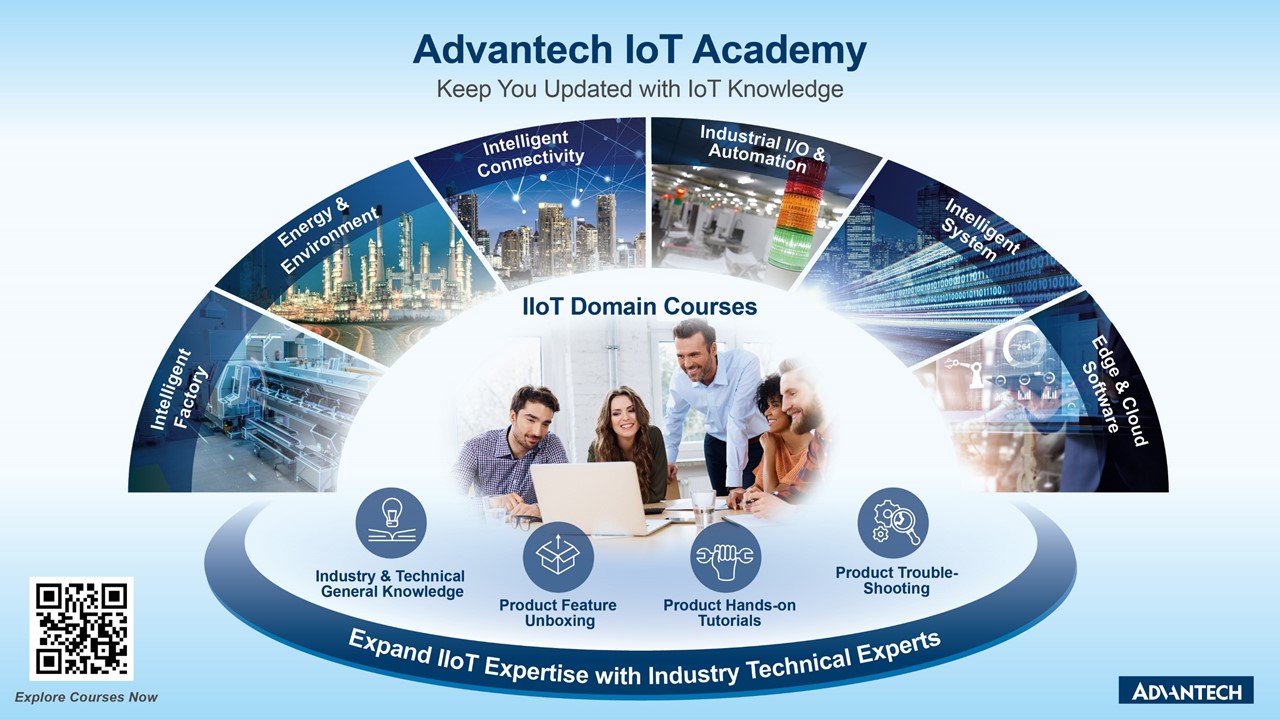 If you want to keep updated with the latest IIoT technologies and applications, you can't miss out on InnoTalks which was founded by Advantech. Each month, InnoTalks will invite renowned IIoT field experts to talk about enabling successful digital transformation in industrial automation & IoT. Topics cover practical solutions for OT and IT convergence, from the edge to the cloud in order to broaden the IIoT ecosystem.
If you want to explore broad IoT, AI, 5G related technologies, and applications, Advantech Connect is your best choice. Advantech Connect, also founded by Advantech, is a live webinar and on-demand video platform that features IoT, AI, 5G, cloud computing, and edge intelligence technologies.
IoTONE is a podcast which is owned by IoTONE Company, and now there are more than 140 podcasts online. IoTONE invites many IIoT industrial experts to share their concepts from macro perspectives, including technology insight sharing, trending IIoT technologies applications, and IIoT business strategies to micro-practices, including IIoT process optimization.
If you are interested in acquiring knowledge about programmable logic controllers (PLC), you must not miss RealPars. RealPars is a company that dedicates itself to offering practical skills for automation engineers, most of which are related to PLC programming hands-on experience. You can take free courses here.
After reading the article, you hope you understand the common applications in IIoT . For more IIoT general knowledge and Advantech IIoT product training, we welcome you to register with IoT Academy and take a versatile free on-demand course to expand your IIoT knowledge.