Advantech Announces New Intel® Select Solution for NFVI Forwarding Platform
10/10/2019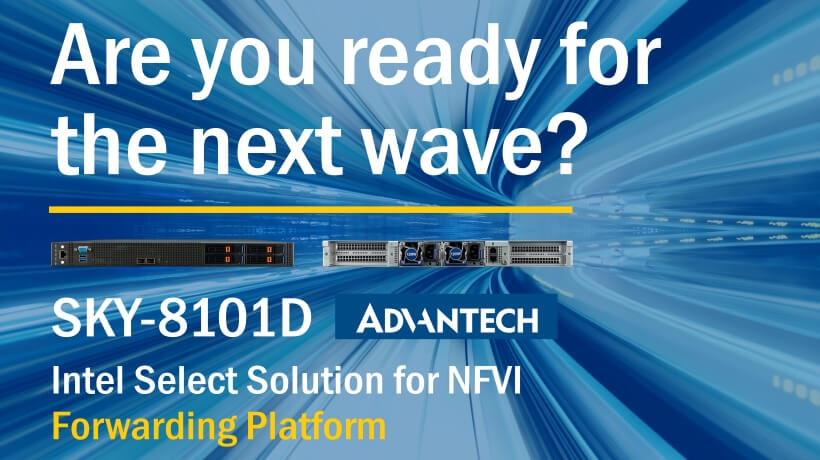 Multi-Partner Solution Demonstration Featured at SDN NFV World Congress
Integrated on Advantech SKY-8101D 1U, dual socket, 400Gbps throughput server based on 2nd Gen Intel® Xeon® Scalable processor family
Targets 4G and 5G User Plane Functions, broadband use cases such as vBNG, vBRAS, vEPC, vSecGW, and cable use cases such as vCMTS
Commercial vBNG solution to be demonstrated at Intel's booth with partners RedHat, netElastic and WWT
The Hague, Netherlands, Oct 14, 2019 – Advantech (TWSE: 2395.TW) today announced that its new SKY-8101D server has been verified as an Intel® Select Solution for NFVI Forwarding Platform (FP). Intel Select Solutions for NFVI FP expose the value of a NUMA-balanced architecture to maximize data plane performance for high I/O workloads. Following the Intel specification, Advantech and partners RedHat, netElastic and WWT have integrated a commercial virtual Broadband Network Gateway with predictable performance that helps Communication Service Providers (CommSPs) simplify network design choices. This solution will be demonstrated at the Intel booth during SDN NFV World Congress in The Hague from October 14-17, 2019.
Intel Select Solutions for NFVI FP address the architectural shortcomings found when disaggregating network, compute and storage from the upper-layer application function. The reference architecture builds from a foundation of a balanced server design, where each NUMA node has identical capacity resources. The multi-node architecture of the Intel Select Solutions for NFVI Forwarding Platform supports control and user plane separation which allows user-plane functions to be scaled out across multiple systems. The resulting topology allows for a many-to-one relationship between the node types, thereby enabling a more efficient use of hardware resources for lower TCO.
The Advantech SKY-8101D server is a verified Intel Select Solution for NFVI FP plus, base and controller node specifications with Red Hat Enterprise Linux and Red Hat OpenStack. This compact 1U server integrates two 2nd generation Intel® Xeon® Gold processors, each with 24 cores and four Intel® Ethernet Network Adapter XXV710 supporting DPDK network acceleration for up to 400Gbps raw PCIe throughput per system. Advantech enhanced reliability and security features include IPMI 2.0 compliant management, redundant power supplies, the ability to withstand single fan failures, redundant firmware images with failsafe upgrades and hot swappable FRUs.
Commercial Virtual Broadband Network Gateway
The vBNG solution from Advantech, Red Hat, netElastic and WWT maximizes network I/O per NUMA node to support increased subscriber density, while retaining highest throughput and cost efficiency per rack unit. It leverages the high-density SKY-8101D server configured as an Intel Select Solution for NFVI FP plus node and netElastic vBNG which separates control and data plane for proven performance, scalability and cost savings. The demonstrated configuration can serve up to 128,000 subscribers with 300 Gbps data plane throughput per 1U SKY-8101D server.
WWT has integrated, tested and demonstrated vBNG at the WWT Advanced Technology Center (ATC). This state-of-the-art facility boosts ecosystem collaboration and matches perfectly with Intel Select Solutions objective of reducing evaluation time, cost and risk when designing and deploying disaggregated ecosystem solutions for the virtual and automated network.
"Advantech is committed to the Intel Select Solutions program objective of helping communication service providers solve the SDN NFV challenges with optimized and tested, predictable behaviour infrastructure that is ready to roll." said James Yang, VP, Advantech Cloud-IoT Group. "The demonstrated solution is an example of streamlined collaboration under the Intel Select Solutions umbrella where a commercial solution for a demanding data plane use case has been fully integrated, tested and verified in less than one week, successfully achieving the expected high performance results."
"5G Core to Edge infrastructure is built on cloud-based architectures, and we created the Intel Select NFVi FP Solution to fuel the most demanding cloud-based network infrastructure requirements. We are excited to have partners like Advantech join us in the delivery of the Intel® Select Solution for NFVi Forwarding Platform starting with a vBNG workload for the transformation of the CoSP Next Generation Central Office. The solution provided through this collaboration will enable CoSPs to confidently deploy pre-tested, validated and fully optimized platforms to meet the ever increasing packet processing needs." said Alexander Quach, VP and GM of WCND, Intel Corporation.
"The Intel Select Solution for NFVI Forwarding Platform is an ideal design for our high-performance Virtual BNG solution," said David Williams, Senior Vice President, Sales & Marketing at netElastic. "Working closely with Advantech, we're excited to reach a new level of vBNG performance on the Advantech SKY-8101D 1U server."
"We leveraged World Wide Technology's Advanced Technology Center to demonstrate the high performance and throughput of Advantech's SKY-8101D, an Intel Select Solution NFVI Forwarding Platform using netElastic's virtual broadband network gateway (vBNG). We are confident that the pre-validated solution while accelerating deployment and time to market for our customers also provides them with a scalable high performance solution in a cost-optimized form factor." said David Ownby, Director, Open Systems, World Wide Technology.
The vBNG solution will be demonstrated at the Intel booth during SDN NFV World Congress in The Hague, NL on Oct 14-17. The solution is available for evaluation, benchmarking, trial and deployment.
Paul Stevens, Marketing Director, Advantech Cloud-IoT Group

Phone: +33 1 41 19 75 75

E-mail: paul.stevens@advantech.com
Founded in 1983, Advantech is a leader in providing trusted, innovative products, services, and solutions. Advantech offers comprehensive system integration, hardware, software, customer-centric design services, embedded systems, automation products, and global logistics support. Our mission is to enable an intelligent planet with embedded computing products and solutions that empower the development of smarter working and living. With Advantech, there's no limit to the applications and innovations our products make possible.
For Telecom and Networking markets, Advantech Cloud-IoT Group helps service providers and enterprises extend network function virtualization from the core to the edge by providing scalable compute platforms that reliably execute virtual network functions anywhere in the network. Our innovative white-box uCPEs for software-defined WAN and white-box servers based on Intel architecture are supported by a vibrant software ecosystem and supply chain, offering key foundational building blocks that accelerate network transformation and time to new revenue. From next-generation central offices to edge cloud expansion and IoT, Advantech Cloud-IoT Group is enabling the co-creation of products and services that will form the backbone of the new digital economy.