Advantech Launches Dual-band Industrial WiFi I/O Module with Microsoft Azure Sphere
7/31/2021
Taipei, Taiwan, July 31, 2021 - Advantech (TWSE: 2395), a global leader in Industrial IoT technology, launches a dual-band industrial WiFi I/O module with Microsoft Azure Sphere platform for IoT devices and equipment security. WISE-4250AS is a WiFi module with 2.4GHz/5GHz dual-band connectivity, compatible with wireless interchangeable I/O and sensor modules to fit different usage scenarios. WISE-4250AS is built with Azure Sphere, a chip-to-cloud solution for securely connecting existing equipment and new IoT devices to help keep them secured over time.

Dual-band WiFi I/O Module with Interchangeable Modular I/O Selections
To shorten the distance between field site data and the cloud, WISE-4250AS has a dual-band wireless I/O module that can acquire and pass data directly to the cloud by utilizing WiFi 2.4GHz/5GHz frequency ranges. WISE-4250AS is also highly flexible to fit with interchangeable I/O and sensor modules such as WISE-S231 for temperature and humidity sensing, and WISE-214/251 for different serial, analog, and digital inputs from the field.
Bu
ilt-in

Azure Sphere Platform for chip-to-cloud IoT Device Security

WISE-4250AS incorporates the Azure Sphere platform, which includes Azure Sphere-certified chips, Azure Sphere Operating System, and Azure Sphere Security Service to form a highly secured chip-to-cloud solution for IoT devices and equipment. End users need to associate WISE-4250AS to their own Azure account and then they can configure and program via WISE-4250AS's micro-B USB port. Azure Sphere provides software examples and Microsoft Visual Studio IDE to help customers build code and debug programs, which enables system integrators and end users to develop their integrated applications more efficiently.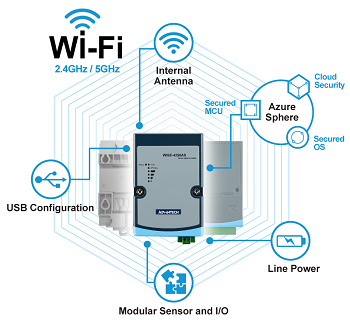 WISE-4250AS is a joint effort between Advantech and Microsoft, offering highly secured and flexible wireless I/O module to connect IoT devices and equipment with automatic security updates. "Edge security is one of the important topics for our industrial IoT customers, especially when they are collecting data from facilities or production lines. We are pleased to launch the first wireless I/O data acquisition module, WISE-4250AS with Microsoft Azure Sphere, which provides secured solutions from hardware chipset, operating system, to the cloud," said ChingPo Lin, Vice President of Industrial IoT Group, Advantech. "We believe WISE-4250AS could enable our customers to develop their own edge to cloud solutions. We are looking forward to more product collaboration with Microsoft in the future."
"With billions of IoT devices connected each year, IoT security is more essential than ever for protecting sensitive data and physical infrastructure," said Lakecia Gunter, VP and GM, Microsoft IoT Global Partner Solutions. "We are proud to partner with Advantech to implement Microsoft Azure Sphere solutions like WISE-4250AS. Together, our companies will continue to innovate and drive digital transformation across the entire IoT ecosystem."
WISE-4250AS is highly recommended for applications such as retail, energy management and machine condition monitoring. The new products WISE-4250AS and WISE-4250AS-S231 are available now from Advantech certified distributors, channels, E-commerce partners and Advantech's website from August 2021. Visit the link below to find out more.