Advantech Launches TREK-60 Modular In-Vehicle AI Platform for Scalable Surveillance and Fleet Management
9/8/2020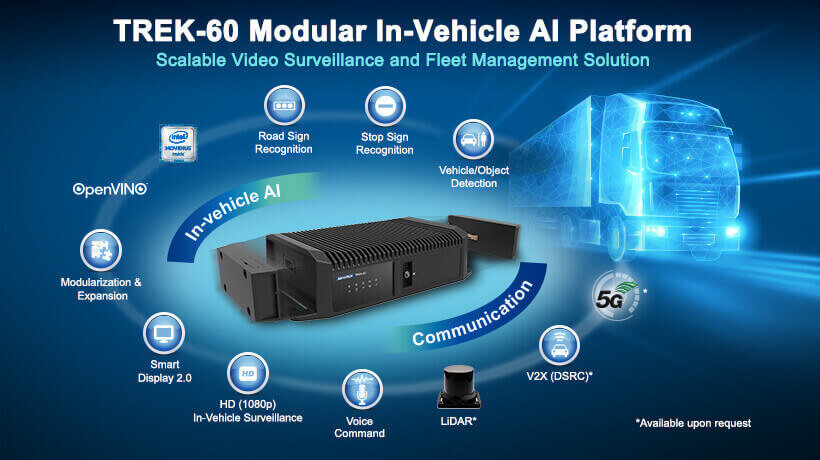 Taipei, Taiwan, September 2020 – Advantech, a leading mobile computing platform provider, is pleased to announce the TREK-60 modular in-vehicle AI platform, the next-generation model of its widely adopted TREK-674 in-vehicle computing box.
Aimed at fleet management and surveillance applications, TREK-60 is compliant with MIL-STD-810G and 5M3 specifications for shock/vibration resistance and supports a 7th generation Intel® Core™ i7/i5/Atom™ E3900 quad-core processor for flexible configuration according to specific usage requirements. To enable hybrid video surveillance, TREK-60 supports up to eight camera input channels, and the built-in RF extension module with automotive-grade FAKRA connector supports GNSS, WLAN, Bluetooth, and WWAN technology to facilitate real-time communication, vehicle tracking, and data collection. The embedded dual CAN bus supports diverse vehicle protocols, including raw CAN, J1939, and OBD-II, for vehicle monitoring and diagnostics, while the intelligent vehicle power management system supports ignition on/off/delay and wake-up event control. Compatible with 12/24V vehicle power (ISO 7637-2) and a wide power input range (9 ~ 32 VDC), TREK-60 can withstand operation in extreme in-vehicle environments. Moreover, the modular design allows the system I/O to be extended to facilitate the integration of optional modules. Finally, with the integration of Intel's OpenVINOTM toolkit for convenient deployment, TREK-60 provides a robust and highly customizable in-vehicle solution for public transportation, emergency services, heavy-duty vehicles and utility fleets.
Modular Design and Edge AI Offer Scalability
With support for either an Intel® Atom™ X5-E3940 quad-core processor or Intel® Core™ i7-7600U dual-core processor, TREK-60 is designed for flexible configuration and cost-effective upgrades to ensure future applicability. The inclusion of an RF extension module that supports WLAN, Bluetooth, WWAN, and GPS technology and features an automotive-grade Hirose GT series/Amphenol® RF FAKRA connector allows for reliable wireless communication and easy maintenance. Equipped with an I/O extension module, TREK-60 can be integrated with additional optional Edge AI, 5G communication, and DSRC/V2X modules that expand the system functionalities at minimal cost. For enhanced vehicle management, TREK-60 features a built-in G sensor and gyroscope for data collection and can be integrated with an optional Intel® Movidius™ Myriad™ X vision processing unit and OpenVINOTM toolkit to facilitate deep learning and AI processing.
Supports 8 Camera Input Channels for Advanced Video Surveillance
To support critical video surveillance applications on public transport, emergency, and utility fleets, TREK-60 is equipped with eight 802.3af Power-over-Ethernet ports for integrating IP cameras. An optional RJ-45 cable management kit can be added to ensure stable connectivity with IP cameras. Moreover, the two built-in microcontrollers feature intelligent power and Ethernet management and, with the inclusion of a SDK, support remote access for convenient control.
Rugged Design for Harsh Industrial Environments
Built to withstand operation in harsh in-vehicle environments, TREK-60 supports a wide operating temperature range and is compliant with MIL-STD-810G and EN60721-3(5M3) specifications for vibration/shock resistance. For protection from dust and water ingress, an optional IP65-rated I/O cover can be included. The system can also be equipped with an external SSD tray with key-lock protection for enhanced security. Moreover, TREK-60 can be easily paired with Advantech's second-generation TREK-306D2, TREK-306P2, and TREK-303R2 in-vehicle smart displays for diverse visualization applications.
Supports Intel® Atom™/Core™ processors
Modular design for easy customization and configuration
Built-in GNSS, WLAN, Bluetooth, and WWAN communication technology
Can be equipped with Edge AI, 5G communication, and DSRC/V2X modules
Supports 8 camera input channels for video surveillance applications
Optional external SSD tray with key-lock protection
Easily paired with TREK in-vehicle smart displays via a single-cable connection
MIL-STD-810G and 5M3 certified for shock and vibration tolerance
Advantech's TREK-60 modular in-vehicle AI platform will be available for order in September. For more information regarding TREK-60 or other Advantech products and services, contact your local sales support team or visit our website at www.advantech.com.
Advantech's corporate vision is to enable an intelligent planet. The company is a global leader in the fields of IoT intelligent systems and embedded platforms. To embrace the trends of IoT, big data, and artificial intelligence, Advantech promotes IoT hardware and software solutions with the Edge Intelligence WISE-PaaS core to assist business partners and clients in connecting their industrial chains. Advantech is also working with business partners to co-create business ecosystems that accelerate the goal of industrial intelligence. (www.advantech.com)
Primary Media Contact
Advantech Corporation
Eva Wang
Tel: +886-2-2792-7818 ext. 9045
Mobile : 0919-993-152
Secondary Media Contact
Advantech Corporation
Dev Lee
Tel: +886-2-2792-7818 ext. 9756
Mobile : 0925-917-316