World Wide Technology Deploys Advantech White box Universal CPE in Advanced Technology Center
2/21/2019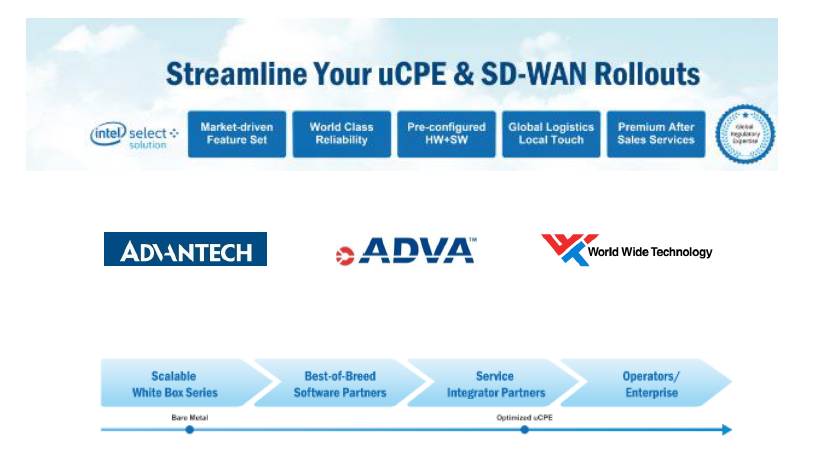 Advantech's verified Intel Select Solution for uCPE goes live for Service Provider Evaluation and Testing
Mobile World Congress, Barcelona, Spain, Feb 22, 2019 – As Communication Service Providers (CommSPs) shift their SD-WAN and Enterprise Security focus to functions deployed on Universal CPE (uCPE), Advantech, ADVA and World Wide Technology (WWT) today announced a new initiative that will enable development teams to remotely test performance and functionality of Virtual Network Functions (VNFs) running on verified Intel Select Solutions for uCPE. Orchestrated by ADVA's ETSI MANO-compliant NFV orchestration solution, and backed by ADVA's Ensemble Harmony Ecosystem of over 50 commercial VNFs, the initiative marks a premier in accelerating commercial uCPE deployments.
Online accessibility of white box uCPEs will accelerate Service Provider outcomes, by reducing the time it takes to evaluate, integrate and deploy new solutions at scale. WWT's Advanced Technology Center (ATC) allows customers and partners to collaborate in both a lab environment and remotely, via a secure user portal and a unique mobile app. Together with ADVA and Advantech, WWT will enable evaluation partners to speed-up their uCPE and SD-WAN deployments over a broader range of 5G, G.Fast, GPON, xDSL and WiFi infrastructure.
The portal can be used by CommSPs and partners to rapidly verify VNFs on a pre-validated and workload optimized uCPE configuration based on the Advantech FWA-3050 a verified Intel Select Solution for uCPE. WWT is helping industry address the main challenges in the virtualization of the network infrastructure by providing an easy-to-use remote lab to evaluate:
Performance & Functionality:

benchmark VNFs early on to detect and remove bottlenecks that may hit at different levels of the virtual stack.

Scalability & Network Architecture:

validate scale-out and service chaining of VNFs, and prepare for intensive workloads.

Reliability & Security:

test VNFs on carrier-grade platforms to assess overall system availability and expose them to real-world threats.
"By utilizing WWT's ATC, CommSPs can significantly lower their time to revenue by validating the VNF service chains required for their new managed service offerings in a unique lab environment that's been purpose built to test a variety of VNFs across a variety of uCPEs" said Joe Wojtal, WWT's VP of Open Systems & Solutions."WWT's Integration Centers can be then be used to integrate the hardware and software for shipment to customer deployment locations."
"ADVA's Ensemble suite provides support for the industry's largest ecosystem of VNFs, and WWT's ATC gives CommSPs a way to rapidly integrate and verify their choice of those best-of-breed VNFs," said Prayson Pate, CTO, Edge Cloud, ADVA. "By working with WWT, CommSPs get the benefits of choice while minimizing the time that would otherwise be required to construct and verify multi-vendor service chains."
"The ATC initiative testifies how CommSPs can reduce the complexity they face in choosing the right uCPE for their Software Defined Infrastructure," said James Yang, VP Advantech Networks & Communications Group. "By evaluating on a verified Intel Select Solutions for uCPE platform in WWTs labs, CommSPs can efficiently deploy new infrastructure and reliably achieve workload-optimized deterministic performance on a balanced platform"
Paul Stevens, Marketing Director, Advantech Networks & Communications Group
Phone: +33 1 41 19 75 75
E-mail:
paul.stevens@advantech.com
Founded in 1983, Advantech is a leader in providing trusted, innovative products, services, and solutions. Advantech offers comprehensive system integration, hardware, software, customer-centric design services, embedded systems, automation products, and global logistics support. Our mission is to enable an intelligent planet with embedded computing products and solutions that empower the development of smarter working and living. With Advantech, there's no limit to the applications and innovations our products make possible. For Telecom and Networking markets, Advantech provides business-critical hardware to the leading telecom and networking equipment manufacturers, and to global communication service providers. Advantech's standard and customized products are embedded in OEM equipment that the world's communications infrastructure depends upon.
https://www.advantech.com/nc
ADVA is a company founded on innovation and focused on helping our customers succeed. Our Edge Cloud technology has been selected and deployed by many of the world's leading service providers as well as large enterprises looking to leverage NFV for financial savings. It's these open connectivity solutions that enable our customers to deliver the cloud and mobile services that are vital to today's society and for imagining new tomorrows. Together, we're building a truly connected and sustainable future. For more information on how we can help you, please visit us at: www.advaoptical.com.
About World Wide Technology
World Wide Technology (WWT) is a technology solution provider with more than $10 billion in annual revenue that provides innovative technology and supply chain solutions to large public and private organizations around the globe. While most companies talk about delivering business and technology outcomes, WWT does it. Based in St. Louis, WWT employs more than 4,600 people and operates over 2 million square feet of warehousing, distribution and integration space in more than 20 facilities throughout the world.
For more information about World Wide Technology, visit
www.wwt.com