Advantech Launches Machine-to-Intelligence Solutions on the WISE-PaaS 4.0 Platform for Cold Chain Logistics Applications
2/22/2021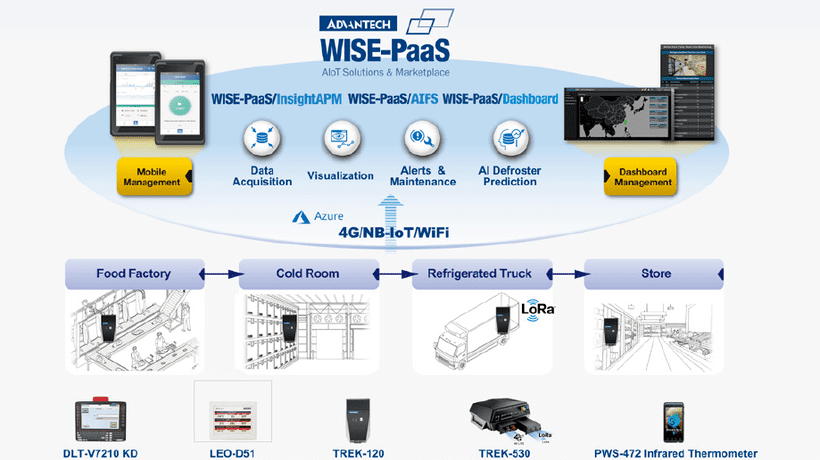 Photos provided by Bigstock, Fotolia
Interview with David Yang, Product Manager, Intelligent Mobile Solutions of Service IoT Group, Advantech; Yu Wang, WISE-PaaS Solution Architect, Advantech
Sensors for temperature and humidity data loggers have been used in the temperature-controlled logistics market for many years. Because of the continuous advancement of IoT and cloud computing technologies, the logistics, factory, retail, pharmaceutical, warehousing, agricultural, and food and beverage industries are demanding more proactive, efficient temperature monitoring solutions.
However, to develop comprehensive end- to -end temperature monitoring solutions, three main aspects must be considered: personnel, equipment, and operations. For example, because the performance of transport refrigeration equipment is unstable, temperature readings vary at different locations inside a refrigerated cabin. Moreover, warehouse staff often leave goods outside before transferring them to temperature-controlled warehouses, potentially compromising the quality of goods.
WISE-PaaS enables the ongoing evolution M2I solutions
According to David Yang, Intelligent Mobile Solutions Product Manager at Advantech, in order to address temperature monitoring issues across different industries, Advantech provides on its WISE-PaaS 4.0 cloud platform various industrial apps (I.Apps) and services for integration with domain-focused solutions. WISE-PaaS 4.0 also offers the flexibility and scalability to co-create I.Apps with domain-focused system integrators (DFSI) in order to better serve market demands.
Yu Wang, WISE-PaaS Solution Architect at Advantech, explained the evolution of WISE-PaaS from 3.0 to 4.0. Advantech's WISE-PaaS is now a Kubernetes-based cloud-native platform that allows data to be exchanged between cloud services, supports a greater number of framework services, and enables a low-code development machine-to-intelligence (M2I) architecture. The three most used application framework services on the WISE-PaaS 4.0 platform are 2D/3D dashboard visualization, InsightAPM, and AI framework service (AIFS). These services enhance the accuracy of real-time temperature monitoring and enable more intelligent services for temperature-controlled field applications, such as monitoring refrigeration equipment in retail stores, or controlling temperatures in refrigerated trucks carrying vaccines and medicines.
To address the challenges of temperature-controlled field applications, Advantech has long been developing intelligent end-to-end monitoring systems. From WISE-PaaS 3.0 to 4.0, several innovative edge computing solutions aimed at temperature-controlled applications have been created. This has increased the capabilities of edge devices, making WISE-PaaS a more efficient and purpose-built platform solution for the cold chain industry.
WISE-PaaS application framework services for cold chain management
Advantech looks forward to co-creating more I.Apps with its ecosystem partners and DFSIs. By leveraging the Visualization, InsightAPM, and AIFS WISE-PaaS cloud framework services, it hopes to provide more dedicated services for the cold chain industry.
David pointed out that the Visualization service includes WISE-PaaS/SaaS Composer and WISE-PaaS/Dashboard tools, which allow system integrators (SI) or management to map equipment to locations on a visualized 2D/3D warehouse overview, to interact with field equipment in real time, and to generate custom data visualizations. If faults are detected, the corresponding locations are tagged in real time on the 2D/3D overview. For example, in a plant factory equipped with temperature and humidity sensors for ensuring environmental stability, the intuitive dashboard overviews enable supervisors to easily identify environmental issues and take remedial actions.
According to Yu, InsightAPM is the cornerstone of every solution. The service is designed to reduce unplanned downtime, improve equipment availability, minimize operating costs, minimize equipment failures, and gather data from edge devices. With WISE-PaaS/InsightAPM, users can freely define parameters and performance indicators, such as scheduled asset evaluation, event alert, and utilization rate reports, without worrying about the type of edge device installed. The field equipment configuration on WISE-PaaS/InsightAPM can be applied to other devices in the event of replacement or upgrade.
Using cold chain management as an example, supermarket chains typically have several edge sensor devices installed in their warehouses, refrigerated trucks, and retail stores for end-to-end environmental monitoring of stored food products. WISE-PaaS/InsightAPM allows monitoring of edge devices as well as surveillance cameras installed at different sites and on trucks via a single unified platform.
WISE-PaaS/AIFS is a service that facilitates AI model training and deployment. While working on a project for a large retail chain in Taiwan, Advantech developed a unique AI-based defrost training model for the cold chain industry. Defrosting is a regular maintenance procedure for retail businesses. During the defrosting process, temperatures rise and incorrectly trigger alarms. By deploying the AI-based defrost training model, the time required to defrost different types of refrigeration equipment can be determined, reducing false alarms and optimizing maintenance.
These cold chain applications demonstrate the value of Advantech's WISE-PaaS 4.0 solutions and cloud services. I.App products are available for download from Advantech's WISE-Marketplace. WISE-PaaS 4.0 promotes more open and flexible co-creation business models because of its ability to support multiple cloud platforms.
With WISE-PaaS 4.0, co-creation partners can deploy I.Apps developed by Advantech to their cloud platforms. Furthermore, the I.Apps developed by co-creation partners can be integrated into WISE-PaaS 4.0 and listed on the WISE-Marketplace. This demonstrates Advantech's commitment to co-working with global partners on the development and promotion of intelligent solutions for various industries.
The WISE-PaaS data application platform end-to-cloud architecture provides a comprehensive development environment for data collection, analysis, management, and applications, while promoting interoperability between I.Apps via the WISE-Marketplace and accelerating the development of industrial solutions.
Advantech
InsightAPM/M2I
is an integrated equipment management service that helps customers establish remote equipment monitoring and management quickly to empower equipment intelligent transformation and upgrade.