WISE Remote Facility Monitoring Solution for a Wind Power Plant
4/18/2017
Introduction
In order to reduce the dependence on traditional coal-fired and nuclear power generation, governments around the world have been actively working on the development of renewable energy. Among the various renewable energy sources, the wind power is regarded as the most mature technology, and its cost of electricity is closest to traditional power generation, resulting in a booming wind power industry. Since wind power plants are often located in the sparsely populated remote areas, in addition to the three main components (tower, blade and generator), each wind turbine has to be equipped with Remote Terminal Unit (RTU) to be used as the human machine interface (HMI) for the on-site operation and to collect information for the managers in central control room to remotely monitor all devices in the wind farm.
With advanced production technology and innovative Intellectual Property, one of China's top five wind turbine manufacturers was intending to update the existing product features. In order to seamlessly and vertically integrate hardware/software products and increase future expandability, the company decided to replace the original RTU with closed-end specifications, poor compatibility and insufficient I/O expansion capability.
System Requirement
To facilitate this upgrade the newly designed wind turbine would need to adopt an embedded computer with an open architecture to ensure good interoperability between different brands of the underlying components and the upper monitoring systems, while adding new I/O modules to acquire temperature signals and control switch, thereby providing better monitoring functions.
Since this project is a product improvement rather than a product replacement, the already existing hardware and software such as Bachmann Programmable Logic Controller (PLC), touch screen and third-party SCADA system will continue to be used. Therefore, the new solution needs to provide network products to connect a variety of hardware devices and supports standard protocols allowing system integrators to conveniently access the front-end data.
In terms of hardware specifications, the related hardware products must be compact and easy to install, able to withstand the harsh environment because the new solution would be installed in limited space mechanical and electrical control cabinet, plus climate of wind power farms is mostly inclement. Furthermore, the company's wind turbines not only focus on domestic demand in China but also export to other countries, hence complying with international safety standards is one of the prerequisites.
System Description
Through embedded computer UNO-2362G, unmanaged industrial Ethernet switch EKI-2525-AE, and two kinds of IoT Ethernet I/O modules WISE-4010/LAN and WISE-4050/LAN, Advantech's solution can upload on-site signals and data from a variety of devices to wind farm monitoring system in the central control room. Supporting Windows CE, Windows XPE, Embedded Linux and other open operating systems makes UNO-2362G have better compatibility to replace the original RTU. Featuring with high-speed Ethernet connectivity to form a local area network (LAN), EKI-2525- AE is in charge of linking all of the on-site hardware devices while enabling the wind turbines to become the networking equipments for monitoring and managing applications. As regards the new data acquisition item for the box-type transformer of wind turbine, Advantech used multi-channel current input/digital output WISE-4010/LAN to acquire temperature signals and multi-channel digital input/output WISE-4050/LAN to control the switch. Both WISE products are cost-effective I/O modules and have many outstanding functions to meet the need of field data collection of wind power plant. For example, compact size is particularly suitable for space-constrained applications; plug-in screw terminal block connectors provide simple wiring; stacked mounting is both space-saving and easy to maintain; wider operating temperature ranges (-40°C~70°C) can work smoothly in extreme cold and hot environment; Modbus/TCP protocol support allows the SCADA software to easily get the collected information.The UNO-2362G and EKI-2525 are also industrial-grade wide temperature products and Advantech's solution ensures the functioning of the monitoring system with better stability. In addition, all of the above products have obtained international certifications such as CE, FCC, RoHS, etc. making wind turbine suppliers who actively explore the international market successful at selling their products overseas.
System Diagram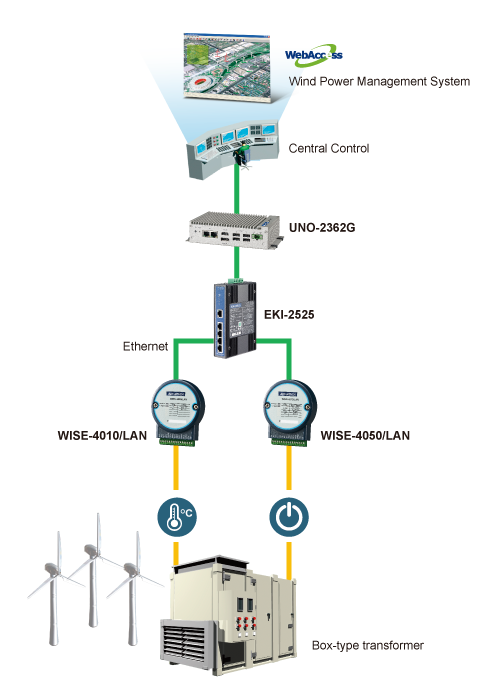 Conclusion
Advantech has an excellent reputation for brand awareness and product quality around the world. Taking this well-known wind turbine manufacturer as an example, the company had already used Advantech's industrial-grade fanless touch computer for many years, and the zero repair rate has enhanced its confidence in our products making it specify Advantech as the hardware supplier for this improvement project. Advantech's high CP value WISE remote monitoring solution enables the company to upgrade its wind turbines and to get high quality products within budget. Although this project includes a number of hardware and software products from different vendors increasing the complexity and difficulty of system integration, Advantech's open architecture solution coupled with standard protocol support is capable of resolving these problems.
Through our flexible solution, the customer can freely add or adjust the hardware configuration according to the actual application requirements, and that is definitely an advantage to further develop the new products or expand overseas business.