Graphics-Oriented Industrial Motherboard for Virtual Fitting Rooms
9/27/2020
Shoppers' expect high standards of service. Spoiled by the convenience of online shopping, consumers expect their in-store experiences to be similarly convenient and enjoyable. Fashion retailers are presented with unique challenges in meeting these demands. Traditionally, customers in fashion retailers examine, touch, and try on different outfits in fitting rooms — the place where buying decisions are made. Since the emergence of Covid-19, consumers have become hesitant to physically try on goods exposed to the public. Mandatory social distancing and fear of infection deters traditional shoppers. Therefore, a market has arisen for viral virtual reality integrated fitting rooms that enable customers to try on outfits without physically touching them.
System integrators are facing growing demands for convenient smart retail markets with diverse functions. Consumers demand modern enjoyable in-store shopping experiences. To meet these demands, retailers need innovative solutions like smart fitting rooms. Building a smart fitting room requires innovative software and excellent UI design. These solutions require powerful motherboards for successful implementation.
High resolution displays and high-graphics performance are needed to demonstrate detailed outfits. Using sophisticated algorithms, the system recognizes the customers' movements and displays virtual reality scenes. These systems need to render graphics for outfits quickly. Therefore, the growing demand for enhanced shopping experiences makes lag and high latency intolerable. Likewise, the digital cameras, various sensors, and high computing power used in this system must perform flawlessly.
Advantech's AIMB-228, the newest member of AMD mini-ITX family, is a powerful contender in the smart retail market. Designed with 25 ~ 54W AMD Ryzen Embedded V1000 series APU — with up to 4 cores/8 threads and 11 compute units— AIMB-228 offers up to 3X more GPU performance. It is capable of performing AR algorithms and other high computing tasks. Furthermore, AIMB-228 can power up to 4x independent displays with up to 4K resolution. It delivers a 46% increase in computing performance when compared to similar Intel® platforms and has low power consumption.
Quad Independent Displays with up to 4K Resolution
Advantech's AIMB-228 supports 4x independent displays via Display Port (DP) 1.2. Additionally, it features optional Low-Voltage Differential Signaling (LVDS) interfaces. AIMB-228 has specific built-in features, such as TTL/CCtalk, 10W amplifier, and the highest level 4 ESD protection, making it ideal for the digital signage applications that necessitate high graphic performance in noise sensitive environments.
High Adaptability for 24/7 Operation
AIMB-228 accepts wide-range DC power source (12 ~ 24VDC) to accommodate diverse system designs. To ensure reliable operation, AIMB-228's heat dissipation system supports operation in environments up to 60 °C (140 °F). Additionally, its electronic components meet high ESD and EMC requirements for voltage stability and reduced electromagnetic emission.
Diverse I/O and Expansion Slots Ideal for Smart Kiosk Applications
Advantech's AIMB-228 supports 4x DP, 6x COM ports, 6x USB ports, and 2x LAN ports; making it adaptable to most peripheral modules used in smart retail. Additionally, multiple high-speed I/O and expansion slots are equipped— including 1x M.2 (B Key) accompanied with one SIM card holder and 1x M.2 (E key) — for easy network connectivity or NVMe storage installation. AIMB-228 supports 16-bit digital programmable I/O, dual Gigabit Ethernet ports (Realtek 8111E) delivering up to 1000 Mbps of bandwidth each, and one PCIe x1 via golden finger for external Field Programmable Gate Array (FPGA) modules.
IoT Application Remote Management and Monitoring
Using Advantech's WISE-DeviceOn, retailers can upload new product information to their distribution networks easily. Additionally, they can analyze regional differences in shopping trends. This fast and simple setup enables intelligent edge onboarding, data acquisition, and status visualization in operation centers. Retailers can adjust inventory according the results of their data analysis.
Additionally, in the event of a system failure, retailers can monitor the system and address the issue via WISE-DeviceOn at the tap of a button. To resolve minor computing glitches, embedded USB controls can be used to discontinue the device's power supply. Likewise, the OTA BIOS system offers seamless updates and a backup recovery mechanisms which greatly reduce the equipment servicing needs.
Advantech AIMB-228 a high-end graphics powered Mini-ITX Industrial Motherboard integrated with remote management software continues to be an innovative retail solution. It improves in-store shopping experiences while reducing maintenance costs. This solution demonstrates Advantech's commitment to helping customers achieve efficient field-side control while creating a return on investment by optimizing shopping experiences.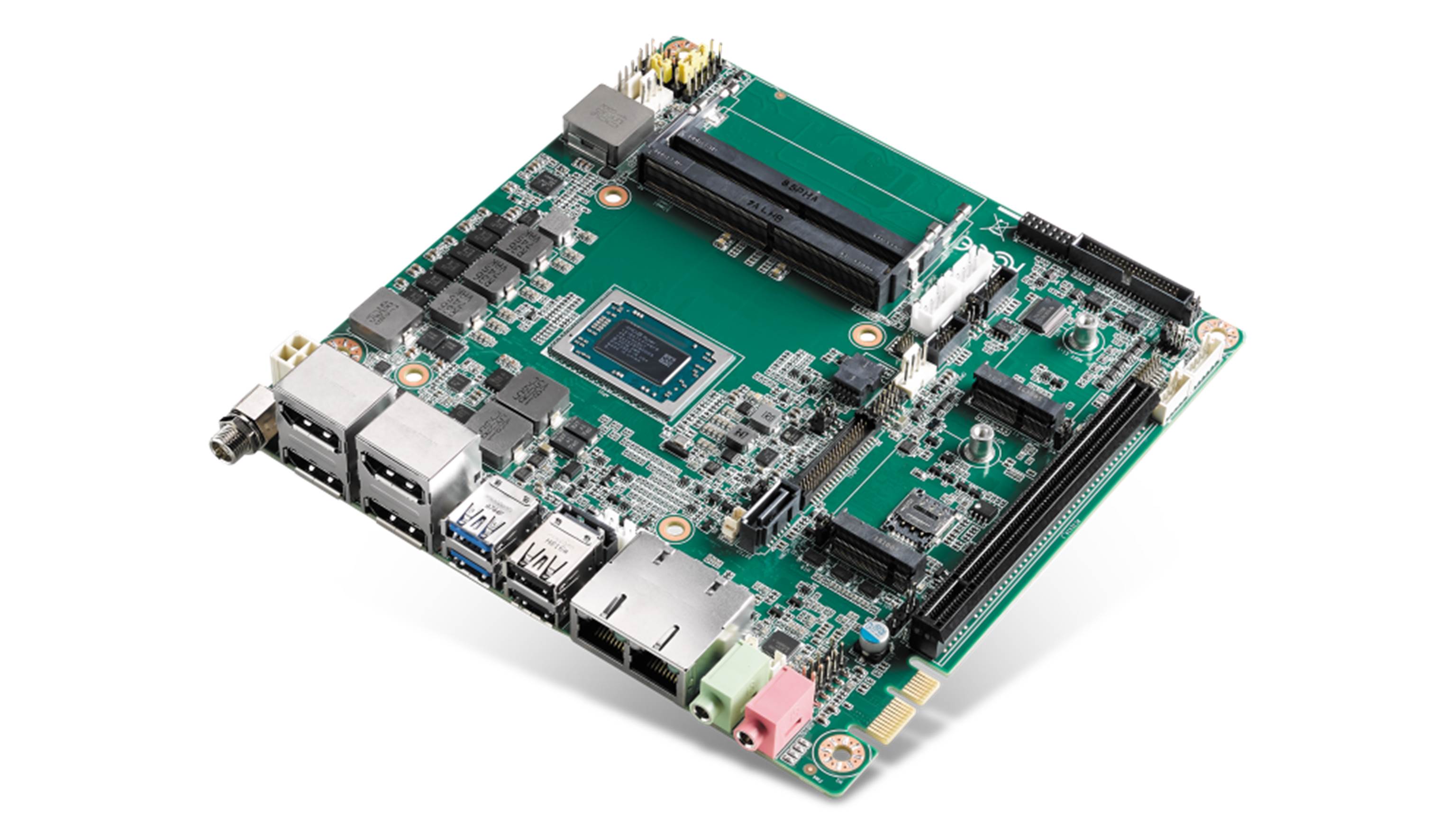 AIMB-228 Key Features
AMD V1000 / R1000 series processor

Two 260-pin SO-DIMM up to 32GB DDR4 3200 SDRAM

Quad display with 4DP or 3DP + LVDS

1x PCIe x8 (R1000 support PCIe x4), 2x M.2 B/E key expansion slots

6x COM (1 RS-422/485, 1 CC talk, 1 TTL), 4x USB 2.0, 2x USB 3.1 Gen2

1x Intrusion Protection, 10W amplifier (optional)

12-24V wide range DC-input

WISE-DeviceOn and Embedded Software APIs