Future-Proof Your Cloud Agility at the IoT Edge
5/24/2021
Previously, field-based machines had to be manually configured and monitored, necessitating additional personnel for flexible operation. According to a 2018 report by Gartner Research titled "The Future Shape of Edge Computing: Five Imperatives", there are five imperatives that drive potential edge computing solutions, including latency and determinism, local interactivity, limited autonomy, data and bandwidth, and privacy and security issues. With ongoing demand for real-time insights and localized action, the deployment of edge computing solutions in industrial environments is rapidly increasing. IoT edge devices can deploy cloud-based AI engines at the edge to collect machine data locally and in real time. When combined with Advantech's OT technology, a variety of industrial machine data can be gathered, processed, and transformed into actionable information directly on the device. By automating data analysis and machine response at the edge, IoT edge computing has significantly reduces the need to transfer massive data between the edge and the cloud, thereby revolutionizing the industrial IoT world.
Configuring AWS IoT Greengrass Core and Azure IoT Edge
Integrated with AWS IoT Greengrass Core and Azure IoT Edge technologies, Advantech Edge intelligence solution can extend cloud intelligence and analytics to industrial-grade platforms to provide various data analysis capabilities, including stream analytics, machine learning, and image recognition. AI-based computing on industrial IoT edge devices enables analytics applications, such as defect inspection and quality assurance, to be performed directly in the field.
WISE-EdgeLink Supports 200+ PLC Devices
Advantech's WISE-Edgelink software platform is capable of supporting more than 200 industrial device drivers, enabling data to be processed on connected devices and used as data sources for IT applications. Thus, WISE-Edgelink ensures easy development and facilitates the implementation of diverse edge devices. Moreover, to enhance the usage experience, the inclusion of Advantech's EdgeLink Studio provides an intuitive user interface for configuring all services and applications without programming.
Application Scenario: Optimizing Process Manufacturing with Edge Intelligence
Background:
Process manufacturing, which is commonly employed in the food & beverage, pharmaceutical, agricultural, and energy industries to mass produce goods, presents different challenges compared to those of mechanical manufacturing. Because process manufacturing relies on the flow of sequential steps, most manufacturing systems utilize steady-state analysis to satisfy all expected uncertain conditions. However, the interdependency of process manufacturing procedures can impact efficiency and quality as insignificant events may be exacerbated into extreme events by the continuous manufacturing procedures. Moreover, numerous sensors and actuators as well as real-time control functions are required to ensure reliable operations and prevent interruptions when extreme events occur.
System Description:
Advantech's AWS solution leverages AI and data analysis to match production to demand when the real production model cannot be mathematically constructed. AWS IoT SageMaker is used to build an AI model at the edge via AWS IoT Greengrass in order to facilitate real-time analysis, notifications, and control of sudden uncertain conditions during manufacturing. The inclusion of Advantech's WISE-Edgelink software, which supports 200+ PLC drivers and communication protocols, enables device data to be collected from diverse sensors and PLCs for transmission between the AWS edge engine, third-party software, and the cloud. This allows all equipment to be monitored and managed remotely via AWS IoT SiteWise.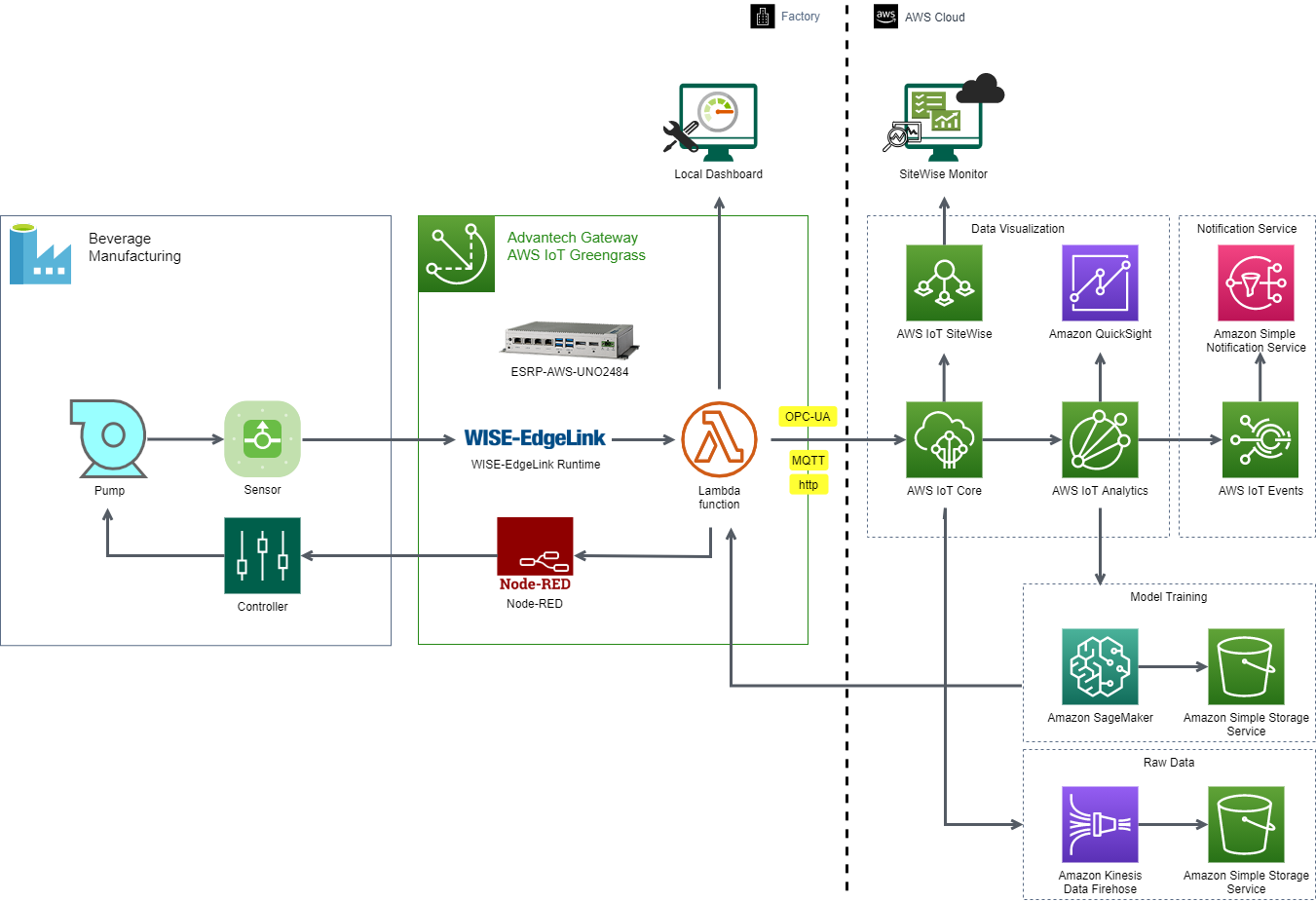 The Value of Integrating OT and IT with Edge Computing Platforms
Integrated with Azure and AWS cloud services, Advantech's edge computing platforms extend cloud intelligence to the edge to facilitate industrial IoT applications. Advantech platforms feature edge container technology that supports third-party container-native applications and allows cloud services to be deployed as decentralized computing resources. With Advantech WISE-Edgelink and cloud services, Azure IoT Edge and AWS Lambda functions can be integrated with a variety of PLCs and used to create server-less industrial IoT solutions for conducting stream analytics, machine learning, image recognition, and other high-value AI functions at the edge. Thus, Advantech's edge computing platforms combined with Azure and AWS cloud services offer a complete solution that streamlines processing operations and bridges the gap between OT and IT.
To more efficiently realize Industry 4.0 and enhance the reliability of factory/equipment applications, devices should be capable of edge computing. Edge intelligence not only facilitates data-driven decision making, but can also increase overall productivity. In collaboration with diverse software partners, Advantech has developed a new series of edge solution-ready platforms (SRPs) that feature various edge computing capabilities and offer numerous services to satisfy a wide range of market demands.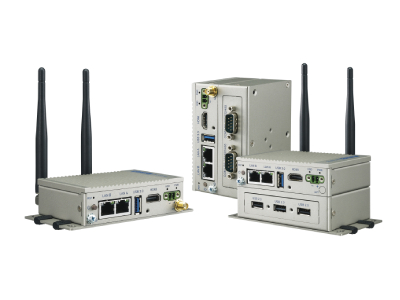 Advantech's device-to-cloud solution realizes the possibility for edge devices to pass equipment and environmental data to cloud platforms directly. They also enable the utilization of cloud platform tools to perform statistical analysis and visualization of data, so that users can understand the status of the equipment and environment at a glance. In addition to solving typical problems associated with building IoT applications, which tend to be widely distributed and composed of many devices, they also reduce inspection costs, improve immediacy, and facilitate the remote management of decentralized sites.