Advantech Launches UTK-615 Compact All-in-One Kiosk for Enhanced Self-Service Applications
1/11/2021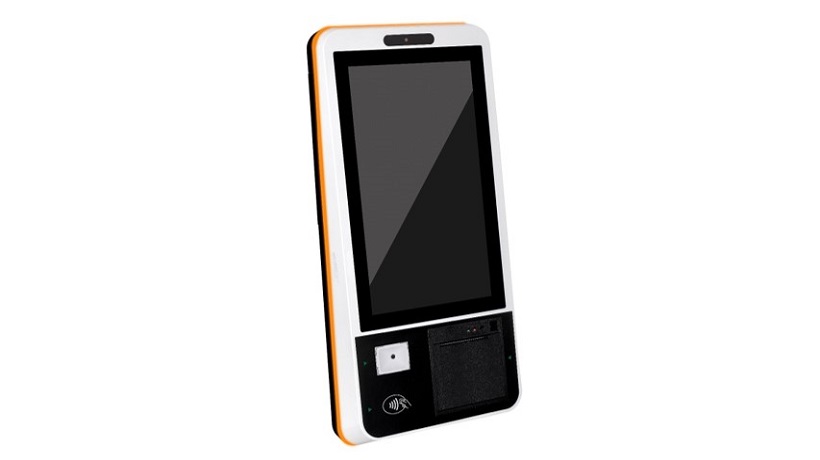 Taipei, Taiwan, January 2021 – Advantech, a leading provider of intelligent computing solutions, is pleased to announce UTK-615, a modular self-service kiosk aimed at indoor self-ordering applications. Powered by a Rockchip ARM® Cortex™-A17 RK3288 processor that supports Android 8.1 OS, the UTK-615 kiosk delivers high-performance computing in a compact form factor. The system features a 15.6" touchscreen with projected capacitive touch control, as well as a QR code scanner, NFC reader, EMV reader, and receipt printer to support a wide range of payment methods popular in different countries, ensuring worldwide applicability. Built for 24/7 operation and to satisfy the diverse requirements of self-service applications, UTK-615 terminals can be customized and integrated with optional modules that extend the system functions. The innovative kiosk is also equipped with VESA mount holes that are compatible with diverse mount options (wall, tabletop, and wheeled floor stand) to ensure easy and flexible deployment in small or medium-size venues with limited installation space. Moreover, for added installation flexibility, UTK-615 features a hot-swappable battery module that eliminates wiring limitations, making it a truly mobile self-service kiosk that can be quickly deployed in various environments, such as at exhibitions/trade shows, concerts, hotels, and retail stores.
Easy Operation with P-CAP Touchscreen and LED Indicators
Advantech's UTK-615 is built to provide a high-performance mobile self-service kiosk that can be employed in a wide range of indoor environments. To ensure easy operation and navigation, the UTK-615 kiosk features a 15.6" P-CAP touchscreen and colorful eye-catching LED indicators that help customers follow the self-service procedures.
Modularized Design Ensures Convenient Maintenance and Upgrades
The UTK-615 kiosk is a modular system that can be flexibly configured and installed with different mount options according to specific usage requirements. The modular design allows the system to be easily maintained and upgraded to suit a range of service needs. Moreover, with the integration of optional extension modules, such as facial recognition and voice guidance modules, the system functionalities can be extended for diverse applications.
Enhanced Service with More Efficient Resource Allocation
For business owners and managers, UTK-615 can improve the customer experience by enabling self-service applications. This minimizes customer wait times, increases order accuracy, and boosts service efficiency while reducing the human resources required to staff the venue. Furthermore, with the inclusion of Advantech's WISE-PaaS/DeviceOn device management software, the kiosks and peripherals can be remotely managed for more efficient operations.
Key Features
· 15.6" touchscreen with P-CAP touch control
· Rockchip ARM® Cortex™-A17 RK3288 processor
· Compact, modular design for limited-space installations
· 0 ~ 40 °C/32 ~ 104 °F operating temperature range
· Hot-swappable battery module for mobile operation
· Integrated QR code scanner, NFC reader, EMV reader, and receipt printer
· Compatible with wall, tabletop, and wheeled floor stand mounting · Supports Android 8.1 OS
Advantech's UTK-615AP mobile self-service kiosk that supports Android OS is ready for order, and UTK-615DP with Intel processor will be available soon. For more information about this or other Advantech products, contact your local sales support team or visit our website at www.advantech.com.
###
About Advantech Founded in 1983, Advantech is a leading provider of trusted, innovative products, services, and solutions. Advantech offers comprehensive system integration, hardware, software, customer-centric design services, embedded systems, automation products, and global logistics support. We cooperate closely with our partners to provide complete solutions for a wide range of applications in diverse industries. Our mission is to enable an intelligent planet by developing automated and embedded computing products and solutions that facilitate smarter working and living. With Advantech products, the number of potential applications and innovations made possible becomes unlimited. (Corporate website: www.advantech.com)