DLT Series of Vehicle-Mounted Computers Now SOTI MobiControl Certified for Mobile Management
9/21/2019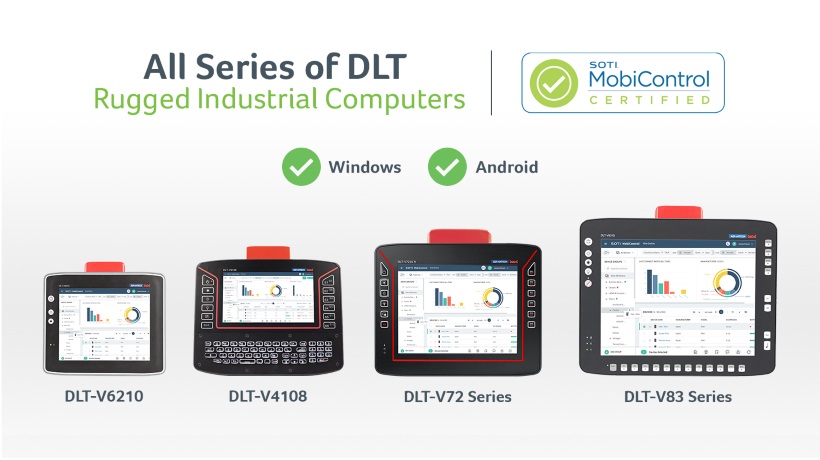 Taipei, Taiwan, September 2019 – Advantech, a leading provider of industrial computing platforms, is pleased to announce that all of its DLT series of rugged vehicle-mounted computers have been certified for SOTI MobiControl on both the Microsoft Windows and Android operating systems.
Advantech has partnered with SOTI to bring customers MobiControl – a trusted enterprise mobility management (EMM) solution that enables organizations to manage, support, secure,and track corporate-liable and employee-liable mobile devices, applications, and content throughout their entire lifecycle, from deployment to retirement.
DLT Series Built to Withstand Harsh Industrial Environments
Advantech's DLT series offers a full selection of high-performance, rugged, vehicle-mounted computers. Equipped with IP66/65-rated ingress protection, IK08-rated impact resistance,5M3 shock & vibration tolerance, and a wide operating temperature range (-30 ~ 50 °C/-22 ~122 °F), the DLT series devices are designed to withstand harsh conditions typical of industrial environments. However, finding a suitable software solution that enables comprehensive mobile device management, including asset tracking, app and content control, device safety,and data security, through a single easy-to-use interface has proved challenging.
MobiControl Enables Centralized Enterprise Mobility Management
SOTI's MobiControl provides real-time monitoring tools and remote support features, such as remote screen viewing, software deployment, configuration, and file syncing, to enable centralized management and control for reduced downtime and increased productivity. With full SOTI MobiControl certification, the DLT series provide a powerful solution that integrates reliable rugged hardware with effective software for convenient enterprise mobility.
Supports MobiControl on Both Windows and Android OS
To satisfy the needs of diverse applications, the DLT series features models that support the latest Microsoft Windows and Android OS. Specifically, the DLT-V83, DLT-V6210, and DLT-V4108 models support Windows 10. The DLT-V72 model, however, supports both Windows 10 and Android 7.1 in addition to dual booting, which allows users to switch between OS. Thus, all DLT series models are certified by SOTI to provide full MobiControl functionality on either a Windows or Android OS.
Advantech's DLT series of rugged vehicle-mounted computers certified for SOTI MobiControl are available for order now. For more information about this product series, visit the DLTwebpage of the Advantech website at https://www.advantech.com/products/vehicle-mounted-computers/sub_1-2jkbwh.